G.R.O.W. to be a Better Person
It was just only a few months ago that the world came together and chanted the countdown to the new year. We chanted for new hopes, opportunities, and successes for what the upcoming year had for us. Per usual, this year has been a repeat for most having the "New year, new me" mindset. We come into the month of January on our A game, ready to change our lives for the better, however that may be. And then, for some reason, most of us burn ourselves out and think "I'm never going to get through this;  this is too big of a goal to handle!" Well fret not, the year isn't over yet! I'm here to teach you a strategy that might just be the final piece of the puzzle for you!
The G.R.O.W. Strategy:
Our bodies and minds are much like a plant if you really think about it: With the right conditions, both need to take their time to grow and take root to become a beautiful being! If we look at ourselves right now, we're kind of like a little seed, with big goals and ambitions that seem unrealistic at the moment. What you need to do is understand that things take time, and that patience is key. After all, a plant doesn't grow overnight! So, with that being said, I present to you the G.R.O.W. strategy:
Goal: What do you want?
Reality: Where are you now?
Options: What could you do?
Will: What will you do?
Goal:
As the word suggests, the first big part of achieving what you want is to actually figure out what your goal is. This can be anything from a long-term goal to a simple issue that needs solving. It's important to think of questions such as "Why do I really want this?", "What is the real issue here?" and "Who am I doing this for?" Once you've pinpointed and identified your goal, you'll find it way easier to move along from there. For bigger, long term goals such as losing weight, it'll be a good idea to break it down into little checkpoints and to celebrate those victories instead of feeling overwhelmed by the big picture. For instance, if someone wants to lose 40 pounds, then break it up into groups of 10. Focus on losing your first 10 pounds before moving onto the next. You'll hopefully find that by doing this, the things at hand aren't as intimidating as you thought.
Reality: 
Now that you've got your goal, it's time to figure out where you are along the lines of completing it. Acknowledging yourself now and the things that haven't worked for you in the past are some of the greatest ways to realize your potential. And realizing that you want to change yourself for the better already gives you an upper hand: determination. Reality might also be considered as coming to terms with yourself, and forgiveness for why you couldn't get this goal done in the past.
Options:
Next, it's time to consider your options to achieve your goal. Think about what didn't work for you in the past, and what you can do differently in the future. Weigh your options and question whether or not it will be a good solution for you. After that, create a schedule and strategy that works best for you.
Will:
Now that you have everything planned out, at long last it's time to put your thoughts into action! Put the pedal to the metal and get to work! Make sure you're not too overwhelmed with your plan, and if it feels like you are, identifying your problem and revising it are of utmost importance! Remember the reasons why you want to achieve your goal and think of yourself at the moment when you have once achieved it.
With that being said, it's also worthy to note that this method might not work out for you at all, and that's ok! Hopefully, though,  this will give you some new ways to think about your dreams and how to achieve them. And maybe, just maybe, the seed we are right now will grow into a lively green plant!
About the Writer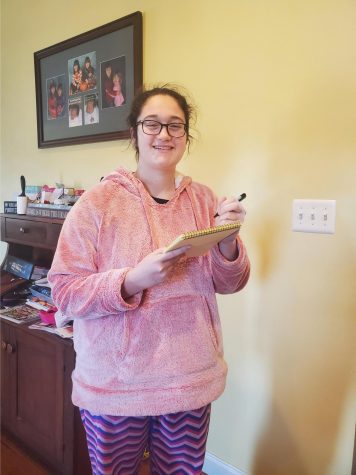 Elizabeth Polo, Editor-in-Chief
Elizabeth Polo is currently a junior at Huntingtown High School. She plays varsity field hockey and lacrosse for the school and loves hanging out with...