Remembering Huntingtown: Humble Tip
In Which Laura Vance Recounts Her Favorite H-Town Memory
What would you consider to be the quintessence of your existence? The moment when time stopped within a golden hue of wonder, and, for the briefest of seconds, you realized that what you're experiencing is not only perfect, but also unfathomably fleeting. The moment you know you will never encounter in its entirety ever again, and as such, has earned a divine tier of notability in your mind. Well, my moment, my quintessence of life, was experienced within these walls, gifted to me by a mountain of a man who calls himself Humble Tip.  
It would be impossible – no, a mockery – to even attempt to recreate the hushed sensation of sanctity and adrenaline I felt as I walked into the Huntingtown auditorium with Lil Nas X's "Old Town Road" borderline shattering my eardrums. The very memory captures a vital fragment in history when the familiar base of the country-pop tune universally infected everyone's subconscious; when hearing the twang of that guitar was associated with nothing but youthful joy. 
The multifaceted motivational speaker, touring musician, and Liberty University graduate, Humble Tip, graced the walls of Huntingtown on April 9, 2019. On a stage that has hosted hundreds of concerts, theater performances, and assemblies, this man taught us life lessons that we, as a student body, would never forget. Those moments of inspiration bonded us together like the wars of our fathers, and we all walked out of those doors as bigger and better Hurricanes. It's a tragedy that his memory will finally leave with my 2022 graduating class; it's difficult to fathom that we were mere freshmen when our lives were changed.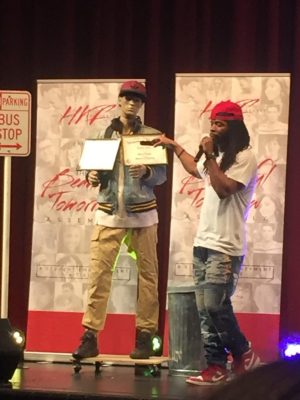 "I ain't got no time for no fake friends!" he reiterated to us, time and again. This is a sentiment that is most commonly remembered by Humble Tip aficionados, even today. "Instead of trying to be the cool kid, I thought about making genuine friendships," says Senior Ian Hays. "His assembly made me ensure that I would never be a fake friend to anyone else. He changed my entire attitude about school and school activities." 
Countless other life lessons were bestowed upon us that day, from memorable slogans to life-altering bits of advice. "Humble Tip showed me that it's important to follow your own path and to not give up on your dreams," says Senior Nick Farber. Then, in a mildly facetious tone, he added, "Humble Tip is the reason I'm sober." He's the reason we all are. 
For Senior LeOra Ziegler, this Humble Tip experience kickstarted a variety of emotions and aspirations regarding her high school experience. "The Humble Tip concert was around my first week of school," recalls LeOra, "so being able to have such a positive experience at Huntingtown early on gave me hope for what the school had in store for the future." She resoundingly assures us that this school has lived up to those first inklings of hope. However, she still believes that she "peaked freshman year because of Humble Tip," especially noting that every day of school without him has been agony.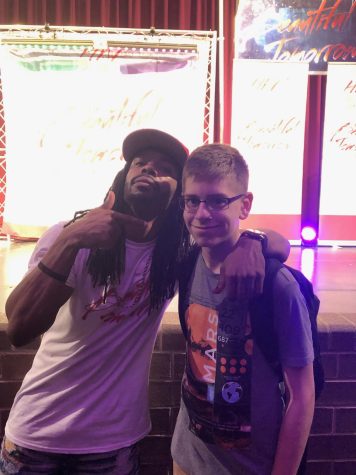 Humble Tip's legacy, however, stretches past the bounds of Huntingtown's brick walls to the mountains of Oregon, where a former Huntingtown graduate fondly recalls the day. I'll let The Forecast alumnus and former sports editor, Joe Nowak, tell it: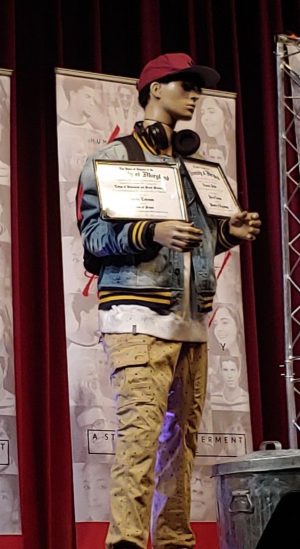 "Despite my wishes to repress all of high school from my brain, I can never forget the invaluable life lessons taught by that lyrical wizard known as Humble Tip. Could he have been a sleeper agent for Liberty University? Sure. Do I remember what he was rapping to us about? Not at all. Do I know the name of the mannequin he carried around and pretended was alive? Absolutely not. But I've never been part of such an electric crowd in my life. I can still remember to this day how inspiring it was to see the twenty-person mosh pit of adolescents as Mr. Tip was performing a song about turning homework in on time. After that assembly, I approached life in a completely different manner than when I had when I walked in. Am I comfortable crediting all of my success to a motivational Soundcloud rapper? Of course I am." 
As of the date of publication, it will have been roughly 1140 days since Humble Tip was in our school. Over eleven hundred torturous days where the mere memory of him now echoes throughout the halls in an empty mockery of his greatness. Once school readjourns in the fall, that number will reach 1240 cruel, colorless days. Huntingtown, I pray you, don't let the memory of him die with our graduation. Don't let his legacy disappear once we walk across the podium. For the sake of the younger classes, for the sake of all the goodness in the world, bring him back. Let him give them their beautiful tomorrow. 
In a demonstration of the Huntingtown student body's support, please view this petition that advocates for his return, and, if you're willing, contribute to this change yourself: https://chng.it/WMLjkXzLmw