Wings are Made to Fly
What makes a caterpillar want to change into a butterfly? It's the yearning to travel to new heights and glide among the winds of opportunity. The same thing can be said for us too. As we grow older and wiser, we begin to find a spark in ourselves. A spark that makes us passionate about the things, people, and places that we love. And soon enough, that spark turns into our own wings. Like the caterpillar that hatches from the cocoon, we too break our shells and transform into the beautiful butterfly that we were always meant to be.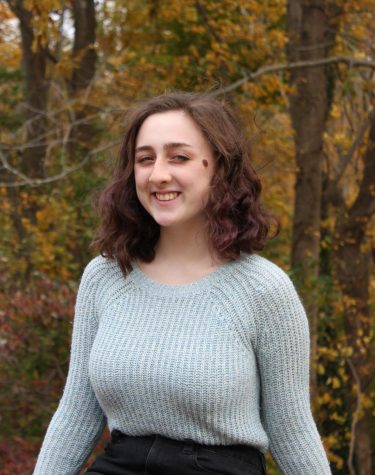 For senior Aiden McPhillips, their wings have finally begun to spread as the school year nears an end. Living in Calvert County their whole life, Aiden has spent their time fulfilling their thirst for knowledge through various extracurricular activities, such as being a part of Eye of the Storm Productions, Student Senate, National Honor Society, Student Storm Leader, and as a peer mediator. "I like to joke around saying that the three main aspects of my personality are being queer, driving stick-shift, and being a camp counselor over the summer," Aiden chuckled. "I think most people recognize me based on my rigorous classes and 'being a nerd', but I'm really passionate about my community. I want to be sure that I'm as helpful as possible."
Giving back to the community is always something that Aiden cherished. For a school that has given so much opportunity to Aiden, they make an effort to give back countless hours in return! "I'm stressed like 90% of the time. My parents always tell me that if I try to balance too many things, then one of them must drop. I didn't believe that was true until just recently. I had never been to a football game before my senior year. I always had late tech nights for theater. I decided to go to support my friends in marching band, color guard, and the drum major," Aiden reminisced. "I had such a good time in a way that I didn't expect. I'm not a sports person by any means. At that moment, I realized that I needed to go into all the high school experiences."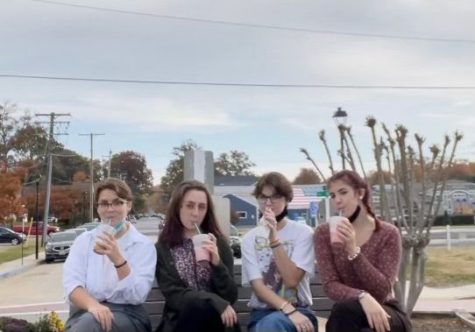 As COVID-19 hindered that part of Aiden's sophomore and junior year, it put their exciting plans to a halt as well. In the blink of an eye, all their work going into the school plays and musicals were shut down due to the world's newest micro-villain, prohibiting their dreams from coming true. "I really thought that my junior year was going to be my year. I was super excited to be a part of the productions that our theater program would put out," Aiden stated. Like any other high school student, Aiden wanted the same exciting, memorable experiences that people like her sister got to have pre-COVID. They realized, however, that without the pandemic, they wouldn't have realized all of the experiences that they were missing out on, including their first football game, homecoming, and spirit week.
Looking beyond the multicolored halls of Huntingtown High School, Aiden has decided to spend their next four years at American University in Washington D.C., where they will thrive amongst the rich historical and urban life embedded within the heart of our nation's capital. "I plan on going into advocacy law. Basically, I'd be advocating for immigrants trying to secure a visa or civil rights cases where people feel like their rights have been ignored. I think everyone deserves to have a qualified person making sure they're protected. I'll be studying things like constitutional law, a little bit of American history, labor unions, and other things too." Along with studying law, Aiden was also welcomed into the community-based research scholar program, which has students work with non-profit organizations in D.C.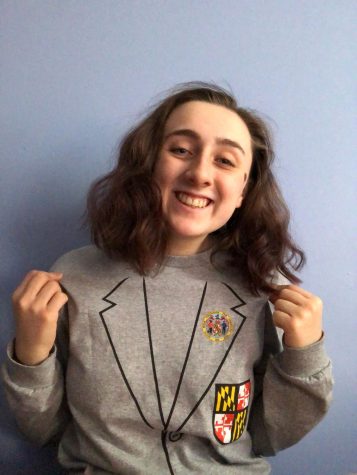 Becoming a lawyer isn't an easy task. It requires someone who can learn from their mistakes, has a strong backbone, a great work ethic, and above all, is truly passionate about what they do. Possessing all of these qualities themselves, Aiden shares some words of wisdom for her peers here at Huntingtown: "Take opportunities where you can grab them. Always be on the lookout for things that are interesting to you, even if they're not interesting to other people," Aiden expressed. "Don't let other people kill your joy."
In the wise words of R. Buckminster Fuller , a great American architect with the goal of helping humanity, "There is nothing in a caterpillar that tells you it's going to be a butterfly." People often underestimate just how extraordinary we can become. But for Aiden McPhillips, it's safe to say that they will do great things in their future, because Aiden was born with wings that were made to fly.
About the Contributor
Elizabeth Polo
Elizabeth Polo is currently a senior at Huntingtown High School and has been a writer for The Forecast since her Freshman year. She plays field hockey...