From Classrooms to Kitchens – Author's Edition
Food: it's something everyone relies on. For some, cooking is a hobby, for others it's a chore… which is how I viewed cooking long before quarantine. Being stuck at home though, I was given the opportunity to spread my wings and dive into a palate of flavors and spices that were foreign to me. So, with that said, here are some of my favorite recipes that I've enjoyed!
Olive Garden's Chicken Gnocchi Soup:
For many years, I've loved ordering chicken gnocchi soup from Olive Garden. Being one of my all-time favorites, I was pleased when I finally found an accurate recipe that satisfied my tastebuds. This creamy soup is perfect for sick days, or if you just need a warm meal to fill you up.
Ingredients:
4 chopped ribs of celery
Shredded carrots to taste
½ of a white onion, diced
6 coves of minced garlic
Olive oil
1 large chopped & cooked chicken breast (seasoned with garlic powder, salt, and black pepper)
4 cups of chicken broth
1 tsp garlic powder
1 tsp onion powder
1 tsp black pepper
1 tsp salt
1 tsp thyme
Gnocchi
2 cups half & half cream
1tbsp cornstarch & water (mixed together)
2 handfuls of spinach
Instructions:
Add olive oil, carrot, celery, garlic, and onion to a pot and Sautee for 4 minutes on medium heat.
Add chicken, broth, and seasonings to the pot.
Mix and let it come to a boil.
Add in Gnocchi
Boil for 3 minutes, lower heat, and cover for 10 minutes.
Add in half & half, cornstarch & water mixture
Turn off the heat and add spinach.
Pull Apart Cheesy Pizza Bread: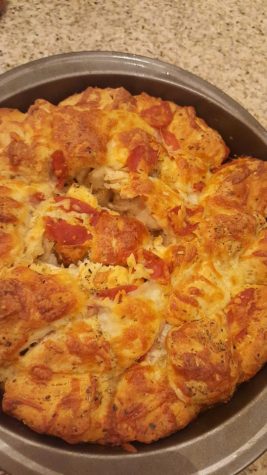 This recipe (which I discovered in a Hallmark recipe book believe it or not) is one of the best appetizers I've ever made. It's perfect for parties, birthdays, sports games, family movie nights, etc. With its quick prep time toasty aroma, it'll be sure to please yourself and others every time!
Ingredients:
1/3 cups of olive oil
2 cans of refrigerated biscuit dough
Pepperoni slices to taste
2 cups of shredded mozzarella cheese
2 tbsp Italian seasoning
1 cup of Marinara or pizza sauce
Instructions:
Preheat oven to 375 degrees. Oil the bottom and sides of a baking pan with some of the olive oil. Set aside.
Slice each biscuit and pepperoni into 4 sections. In a bowl, combine the cheese, dough, pepperoni, remaining olive oil, and seasoning.
Put the mixture into the baking pan and bake for about 25 minutes, checking the center for doneness.
Serve with pizza or marinara sauce for dipping.
Papa Polo's Italian Spaghetti Sauce & Meatballs:
What would a food article be without a signature family recipe? From generation to generation, my family has been cooking and teaching with what we Italians do best, to cook and to eat! My Papa, taking these two things to heart, perfected the family recipe for us to adore. So, from my family to yours, Enjoy!
Ingredients for Sauce:
2 cans of crushed tomatoes
Salt and pepper to taste
½ tsp basil
½ tsp oregano
1 tsp minced garlic
Half an onion, diced
Olive oil
Instructions for Sauce:
For a few minutes, Sautee the onion and garlic in a little bit of olive oil.
After they are sauteed, add all the other ingredients and simmer for an hour.
Ingredients for Meatballs:
2 lb. ground beef
2 eggs
½ cup seasoned breadcrumbs
Salt to taste
Pepper to taste
Garlic powder to taste
½ cup grated parmesan cheese
Sprinkle of oregano
Sprinkle of basil
Instructions for Meatballs:
Combine all ingredients in a large bowl, rounding out and forming the meatball
Place the meatballs on a cookie sheet and bake at 350 degrees for about 20 minutes.
Once the meatballs are out of the oven, let them finish cooking by placing them in the spaghetti sauce.
 And there you have a delicious Italian meal. Buon appetito!