Calvert County's Annual Catfish Tournament
It's 8 o'clock in the morning, and I'm standing in the cold weather waiting for people to arrive for the blessing of the fleet.  There is the smell of fresh brewed coffee from peoples' thermos, the early morning breeze brushes through my hair, and I hear the birds chirping as the sun rises. After several hours of fishing, everyone tired in their waders and they are putting their boat back on the trailer and heading down to Benedict firehouse for the weigh-in.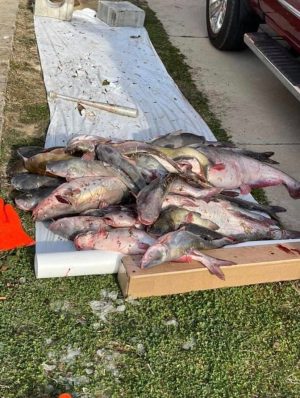 Last year on March 13th, 2021, Benedict Firehouse initiated the first annual DoitForRoper catfish tournament in Calvert County. This is a tournament to raise charity for Calvert hospice and is dedicated to Alex Roper. Over 700 people attended the event. The registration was the day before, 4 booths were set up, and as the night went on more and more people kept showing up, contributing to the chaotic air. The cost of anyone over the age of 17 was $25.00 per person, and the cost of a person 16 or younger was $15.00. As people registered, my mom and I were in charge of the stand for people to buy bait which was a dollar a shad. A shad is a fish you can use for bait.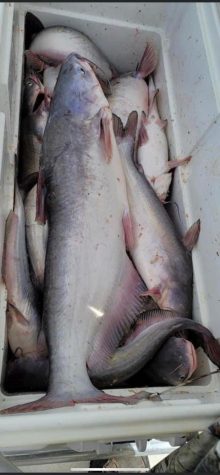 On the day of the tournament, everyone dropped their lines in by 7 am onshore or by boat. Everyone had their own weigh-in time, so it was crowded. So, at their weigh-in time, they met everyone at firehouse to get their score. There was a booth set up for the scale to weigh the fish and a gutting table in case you wanted to clean your fish and take it home and eat it. There was a tent set up to kill the fish, and there were more tents/tables set up for sponsorship. Inside the firehouse, there were snacks in case anyone was hungry from being out on the water all day. 
The day after was when the hosts of the event announced the winners of the tournament, how much money was made, and how much was donated. The #DoitforRoper Pax River Catfish Tournament Charity Results were: $5,098.00 donated to Calvert Hospice and $1,020.00 donated to Benedit Volunteer Fire Department. Over 400lbs of catfish fillets were donated to St. Johns interfaith food pantry. The person who came in 1st place won money and the 2nd and 3rd place winners won an electronic gift card to Bass Pro shops from our Maryland DNR representative.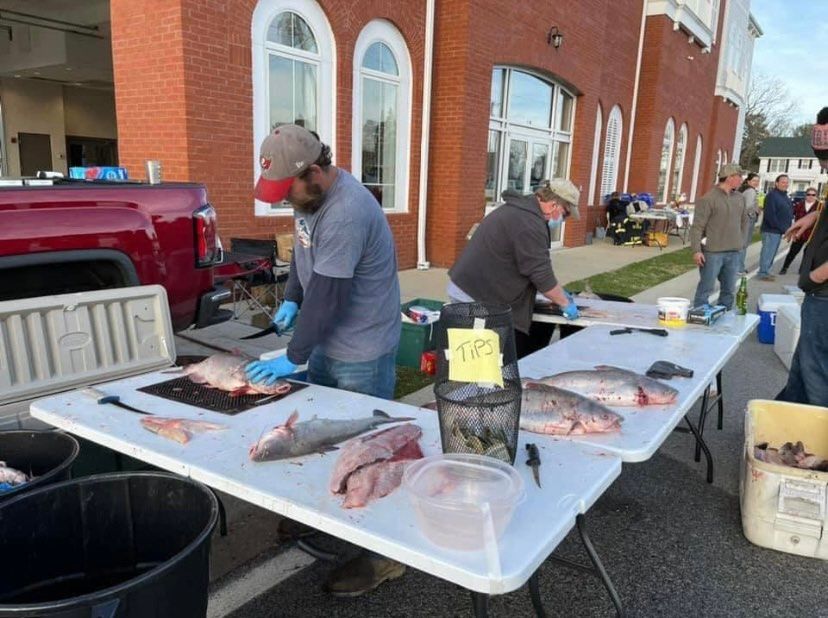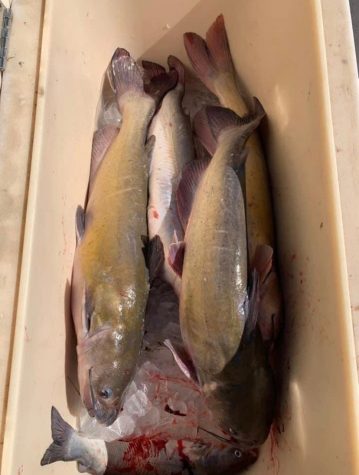 You may be wondering what DoitForRoper stands for or the meaning of it. Well, back in 2017, September 23rd, Alex Roper lost his life due to a car crash at the age of 18. He was a recent graduate here at Huntingtown High school. He had started his career in Local 602 Steamfitters when the accident occurred. He loved outlaw country music, hanging out with his family and friends, and fishing. Alex's legacy will always live on within our community, by starting last year's tournament, our hope was to use that legacy to do even more for others in need. This was a good opportunity for others to do something Alex loved, like fishing, while providing charitable donations.  
As for this year, things are a lot different. To register you go online @hhtps://sites.google.com/veiw/doitforroper-catfish-tourney-2/home. It's $25 per adult and youth entry. 50% of proceeds go to Calvert Hospice and Birthright. This event will be held Saturday, March 19th, 2022, at Bendict Volunteer Fire Department. On the 18th there will be a registration table, then the day of the tournament, 8.00am is blessing of the fleet, lines in at 8:30am-3:30pm. On Sunday, March 20th, 2022, there will be the fish fry and award ceremony from 1:00-4:00pm. This tournament will be sponsored by Patuxent printing, Maryland Department of Resources, Chesapeake Driving School, and Benedict firehouse. Come out and enjoy a wonderful day of fishing and possibly winning!