People of Calvert: Veggies and Fruits and Jams, Oh My!
If you've ever been to Riley's Produce, you certainly are familiar with the splashes of vibrant, seemingly never-ending supply of ripe, fresh goods, contagious smiles from employees, and the friendly buzz of customers. With our beloved Calvert County being so influenced by a rich history of the agricultural industry, it's only necessary to highlight the life of one of our hardworking farmers: Mr. Lenny Sydnor. 
Contracting to Cultivating: 
Before the thought of starting Riley's Produce ever crossed his mind, Mr. Sydnor worked as an electrician helper for different union contractor companies starting at the age of just 17. "I was hired by my dad's construction company, where we worked on sites like the National Cathedral. About 11 years ago, I bought my father's company out so he could retire. Around 3 years ago, I closed my business down." Mr. Sydnor has since found jobs for himself and his employees, where he is now a project manager and estimator for 2 RE Sheehi trucking and paving and Hollywood Contracting.  
As for farming, the Sydnor family has been a part of that trade for generations. "My family has owned our farmland before I was even born. I've always been fond of it. My great-grandpa owned a produce wagon where he would travel from the D.C. line to Edgewater, where he would sell all kinds of produce."  
Making dreams into reality: 
Riley's Produce has been up and running for a hefty seven years; first starting with an idea, then a passion, then a successful business. "About 7 years ago I got interested in growing produce. I actually started it with Riley, my daughter, who got into it with Girl Scouts." At first, growing and selling crops was just a small hobby where the Sydnor's would sell at their driveway. Little did they know this seed of passion would grow into their fruit of success! "It just kind of blew up on us… We're now set up outside Julie Rodger's Dance Studio which was great since it had parking and provided bigger space."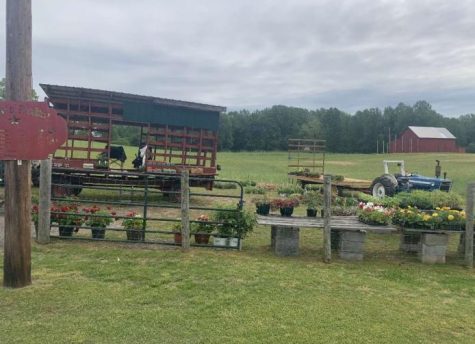 Cream of the Crop: 
With their new and improved location, the Sydnor's had tons of opportunities to show off their goods! Depending on the time of year, you can get countless supplies of fruits, such as melons, berries, tomatoes, you name it! If you don't believe me, just listen to what Mr. Sydnor has to say! "Let me tell you, there's nothing like a freshly grown tomato. It doesn't matter if it's cherry or green tomatoes. You just gotta love em'!" If you're interested in veggies, they also sell fresh broccoli, zucchini, peppers, green beans, and many more! For those who like to savor sweet, tart spreads in the morning, Mrs. Sydnor's jams and jellies will certainly have you wake up on the right side of the bed!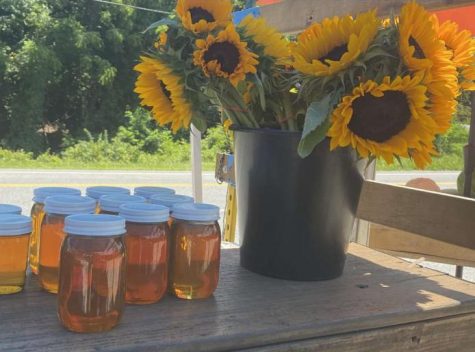 Along with all these wonderful edible goods, Riley's produce also offers an array of vibrant flowers in hanging baskets, sunflowers, and outdoor decorations, such as flowerpot wagons. During the winter, you'll also be able to find hearty firewood for a toasty fire. 
Feeding Calvert: Lenny's Influence: 
Probably the best part of someone's craft is seeing it being enjoyed by others. For Lenny Sydnor, his goods satisfy hundreds of rumbly stomachs within Calvert by being a huge supplier for local restaurants. "I sell a lot of zucchinis. Golden Chicken is one of my biggest customers for zucchini. I sell them about twenty bushels a week between the Lusby and Prince Fredrick stores." For the folks who buy locally, your efforts significantly support the efforts of these farmers. "I've tried to give everyone something that will hopefully be around here for a long time. I try to maintain and put out a good product for them… things that anybody can use!"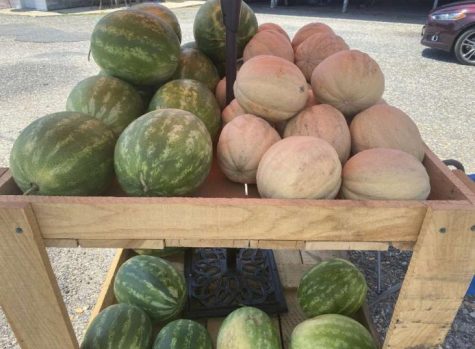 If you're looking to support Riley's Produce and are interested in eating the freshest grown goods in Maryland, please feel free to look at their contact information below! 
 Facebook: RILEY's Produce 
Located at Julie Rodgers Dance Studio
Open from April to October on
Tuesday- Friday 4:00 PM to 7:00 PM
Saturday- Sunday 9:00 AM to 5:00 PM.