Cheerleading: The Stigma Behind It 
As you stand on the track the sounds of screams echo from the stands, the lights shine on you as you walk into your place with a smile across your face. The blue and black poms wave in the air as you wait for the nerve-racking game to begin. This is it, the moment you've been waiting for: you're finally a high school cheerleader.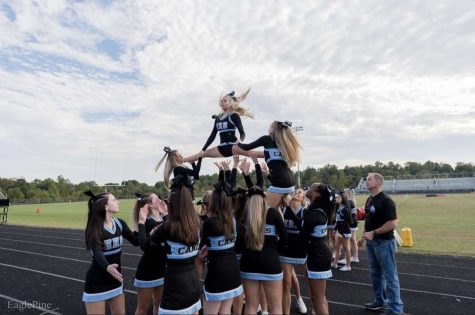 As most people know cheerleaders stand on the sidelines and cheer for the football or basketball players. They will perform a short halftime routine as people wait for the game to restart. Although this may be seen as easy and simple, shockingly it's not. Studies have shown that 65 percent of all catastrophic direct injuries to girl athletes at the high school level and 70 percent of college girl athletes' injuries are due to cheerleading. It may seem easy, but overall, it's extremely difficult with different stunting levels, tumbling and remembering multiple parts of a routine that must be crammed into a 2-minute time frame. The routine contains rigorous stunts that cause many of the injuries and different dances that are fast paced, and the cheerleaders do all this with a smile.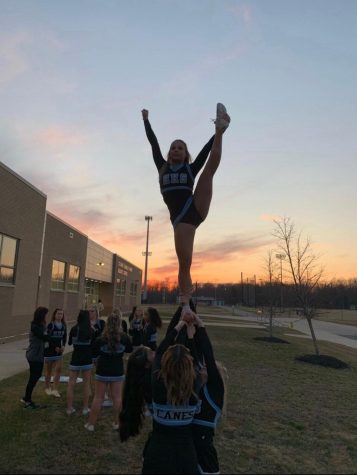 Coaches view
The varsity coach for Huntingtown is Wendy Bowen who many people would recognize from Plum Point Middle School. She is the woman behind it all, although, there are three other coaches who also help. They are Mrs. Yurachick, the geometry teacher at Huntingtown, Mrs. Allard, the gym teacher at Huntingtown and Joe Jones. Mrs. Yurachick is the Junior Varsity coach, and to get a closer look at our program we asked her some questions about what we do for our community. She described all we do saying, "Not only do we support and cheer on the players during the game, but we support them outside of the game in the community, and we participate in the Turkey Trot, Craft Fair, Night to Shine, and try to help with any other events when possible." She also expressed how many valuable lessons are learned through cheer. She stated, "I know so many girls who have said they were too scared to try out and to them I just wish they knew it doesn't hurt to try anything and life isn't always about being the best at something.  Sometimes it's good to just get out of your comfort zone. Even if you don't make it at least you can say you tried it and you won't live with any regrets. Say you do make it, the bonds, and relationships you build with the people on the team are so fun and you learn to trust people on a whole other level."
Hopefully hearing this firsthand from a coach of the program helps people to see just how special it is to be a part of the Huntingtown cheer team.
Athletes' views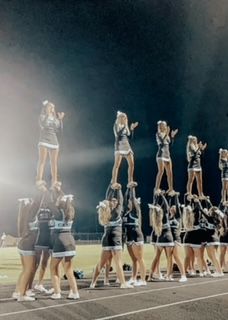 There are many different amazing athletes, but this year's 2021-2022 seniors seemed the best to interview since this is their last and fourth season. Senior Emma Koteff responded, "I tried out for cheer because I have cheered my whole life and wanted to continue the legacy my sisters started. Cheer has made high school so fun with always getting dressed up for game day and being in front of everyone on the track and courts". Going on, stated, "Yes, I think people see cheerleaders as girls who sit on the sidelines and yell yay for the football and basketball players, when we do so much more. We stunt, tumble, throw girls multiple feet in the air and all while supporting the school." Lastly, Emma said, "I think that cheer encourages the players all throughout the game by cheering them on and helping them stay excited throughout the day."
As many of our teammates leave us behind and head to college, we wanted to capture their final thoughts about their cheerleading experience, so we decided to also interview 4-year athlete and senior, Hannah White. Hannah is what many would consider the stereotypical cheerleader, with blonde hair and high energy. She had a lot to say about how these stereotypes affect us, saying, "People automatically assume we are dumb and mean, which just isn't true, with our team taking academics and compassion for others very seriously. Being put into these boxes is very stigmatizing."
She later went on to talk about how this stereotype changes people's opinion to not changes people's opinion to not wanting to try out try out for cheer, and just wants people to think of us as the athletes we are and resect us. To leave off on a high note, we asked what part of her cheer leading has been, and to this she answered, "Hands-down my favorite thing is the bond you create with your teammates. All these girls I grew up with and have become close with is because of cheer, without it I wouldn't have met an amazing group of people that I now call my friends and family." Overall, the girls on the cheer team believe that cheer often gets the signature idea