Sports and Social Rights
The brutal beatings and murders of innocent African Americans have sparked outrage in most Americans for hundreds of years and it is somehow still going on. With sporting events taking the first seven spots in most-watched television programs, they have brought strong support to the Black Lives Matter protest and other issues in our judicial system.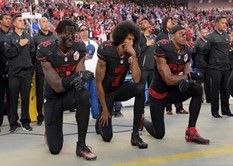 When I hear about athletes and protests, I first think of NFL players taking a knee during the national anthem as do many others. Many know about this protest but never understood why or how it could change things. When Colin Kaepernick first took a knee during the national anthem many were outraged at the fact that someone would "disrespect the country," but many were supportive as they knew these murders were wrong and needed to stop. With Kaepernick bringing publicity to this issue, more and more NFL players got involved with their local community and established protests to bring light to the subject. Dave Zirin a sportswriter said to The Guardian, "He provided a key that someone as an individual could start a conversation in their community and start to organize for change as an athlete." With Kaepernick bringing publicity to the issues in our community, many peaceful protests started and caught the eye of the President of the United States, Barack Obama, who stated "he's exercising his constitutional right to make a statement. I think there's a long history of sports figures doing so." Kaepernick gained support from the highest level of government and inspired people to make a difference in their community.
A lesser known protest was on August 21st, 2020, in the first round of the     NBA playoffs. The Milwaukee Bucks did not come out of the locker room after the shooting of Jacob Blake. This protest brought tons of attention to the shooting of Jacob Blake as it was during one of the most viewed sporting events (NBA playoffs). Bucks' superstar Giannis Antetokounmpo said, "We made a powerful move — decided not to play, decided to bring awareness," Antetokounmpo told ESPN Postgame. With a superstar like Antetokounmpo bringing awareness to the horrible shooting, it got ESPN and many other networks talking about the horrible shooting which started many peaceful protests. The Bucks and Magic made a powerful move and it paid off by getting more people active on social media and in the streets.
The influences professional athletes can have on the community can be wild but it's usually for the best. Athletes and celebrities can change the world for the better or the worse if they use their voices right.