Go Cry About It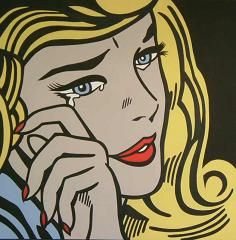 Crying. A shedding of tears, a form of emotion. Either sad, happy, laughing, etc. Usually seen most as a form of sadness. People might think you are weak or broken but it shows so much more. It shows you have heart and courage. That you are human. We are born crying. Charles Dickens, an English writer, and critic once said "Heaven knows we need never be ashamed of our tears, for they are rain upon the blinding dust of earth, overlying our hard hearts. I was better after I had cried, than before–more sorry, more aware of my own ingratitude, more gentle." Therefore, cry about it.
Harvard Publishing informs us that American women cry 3.5 times each month, while American men cry about 1.9 times each month. It is proven that men take crying as a sign of weakness more than women. You see women crying more then you see a man crying because of that. What if we told you holding your emotions in makes you just as weak? Our society has often looked at crying particularly by men as a lack of emotional stamina. Keeping feelings inside can be bad for our health. Crying has been shown to increase attachment behavior, encouraging closeness, empathy, and support from loved ones.
Crying is as normal as talking. After talking to the school's psychologist, we have a better insight into why crying is not a weakness. Mrs. Holland, HHS school psychologist provided her input on how crying affects people and herself. Ms. Holland thinks crying affects you positively. She stated that no matter how much pain you are in, crying will always make you feel better because of the release of endorphins in your body. Sometimes "you just need a good cry" is something she has heard people say over her lifetime. She believes that the idea that crying is weak is not true. It shows that you know how to handle your emotions. It shows that you are strong. Crying does not have to be because you're upset either. People tend to cry for many different reasons.
Ms. Holland explained how when seeing someone cry you automatically think "oh, what happened, what's wrong, or how can I assist them?" We tend to try and help by giving ways to stop crying and/or cheer them up instead of letting them live in the moment. The best way to heal is getting ahold of your emotions yourself. Getting help is not wrong, but that is normally a temporary fix. It is like putting a band-aid on an open wound. Once alone you will tend to get upset again. Keeping your feelings inside can cause you to be anxious and/or carry out stress. You must be able to express yourself. It helps you be aware of the person you are becoming. Holland said it best, "so many things happen in high school, and it starts to feel like a roller coaster ride but ride the wave of feelings and go through every emotion. If there is a feeling you don't like, you have support through parents, teachers, staff and people around you to help you get through those emotions so that you can process it to become a better, you." So go cry about it!!