Hoops at Huntingtown
Brandon Harris, Nicholas Linkins, Jeremy Litka
Basketball is an intense sport with lots of running, physical endurance, and, yes, hard work. Not all people may see it this way, but basketball is a sport that is both a big personal improvement sport as well as a team building one. Here at Huntingtown High School, it is a major sport that has high expectations for the individual players and the overall program as well. Here is your inside look into our basketball team, women's and men's.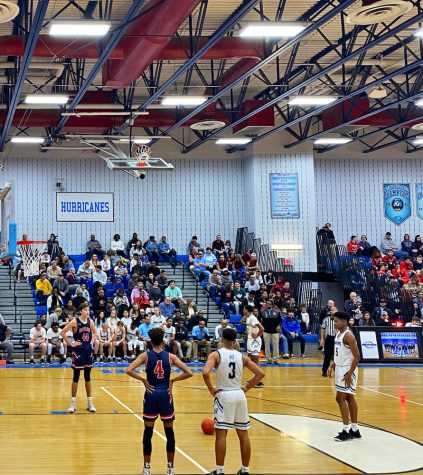 Friday January 10th the boys' varsity basketball team improved to 2-0 in their conference with a towering 70-30 win against Patuxent. After the game I had the privilege of interviewing Ted Spain, a Junior on the team. Spain explained that the team has really come together this year and is intent on driving forward into a great season. Spain impressed upon me that they practice every day and make sure that every day involves hard work, enjoying the time they spend as a team and appreciating how much they have grown together. The most important thing Spain told me was that they have a dream of putting a banner on the wall in the gym and heading off to states. They have improved and accomplished great things so far, and we can't wait to see how they grow as a team.
On the women's side, we interviewed Cheyenne Wilson. She said the girls' basketball team's main goal was to connect and bond as a team and then to get to SMAC and nail a banner to the wall of the gym. I asked her how the players' teamwork was in light of their recent defeat of Patuxent with a score of 55-34. She replied that at first it started off bumpy as a team but now they have gotten used to each other's skills and are balancing out perfectly for the upcoming games through the rest of the season. She also stated that practice continually prepares them for games. They even recently pulled a girl up from the JV girl's basketball team, taught her plays and helped her on defense – yet another sign of teamwork spirit. The girls' basketball team does indeed put in an immense amount of work. They practice every day except Sunday – hard work that pays off as their winning record shows (10-3 as of the end of January).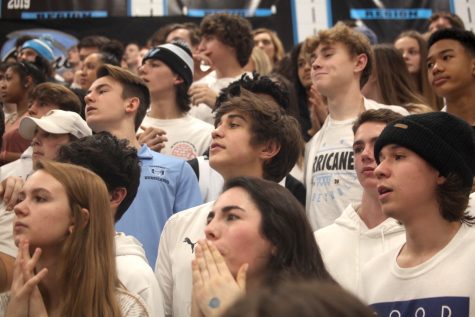 Overall, our men's and women's basketball teams are proud and tremendous teams. They are marching forward with a winning schedule and will continue to be great in the eyes of all of us at Huntingtown High School.