Powder Buff
The sound of a quiet gunshot fills the gym, the ball leaves the server's hand in a not-so-gunshot-like manner, the opposing squad is ready to receive the ball with hopes of passing it to a teammate. Except, those hopes are slim since the players are a collection of inexperienced guys that are a sad excuse for a volleyball team. This year, our school is deciding to implement a Powder Puff like game where the men have an opportunity to play an exclusively female high school sport, Powder BUFF.
For the first time ever, Huntingtown's Class of 2024 Class Council and FCA (Fellowship of Christian Athletes) are coming together to bring the school Powder Buff. This is an opportunity for guys of any grade to come together in teams of six to eight and compete for the title of best makeshift volleyball team in the school.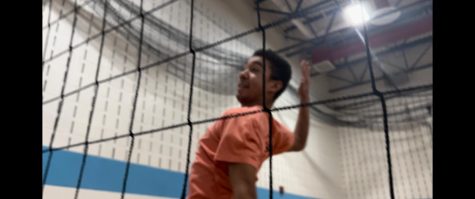 With a total of eight teams, six from Huntingtown, one from Calvert, and one from Northern, there will be pool play in which teams will be randomly matched up in order to determine seedings for a single-elimination tournament. The pool play matches will be one set (or game) to 21 points, and the tournament matches will be one set to 25 points. Once you reach the final it is a best of three sets, each set going to 25 points.
Mr. Orlandi is the tournament coordinator and runs the Boys' Volleyball Club at school. He says, "there are a lot of guys who are actually interested in playing and getting better, but they have no opportunities." And that is a primary driver behind the tournament's expansion to other schools. "We are trying to get the interest in boys' volleyball to continue to grow."
If you plan to enter the tournament, there are a few things you may need to practice. According to Orlandi, you should focus on the "rules and basic skills. Passing, setting, and hitting will be huge." Volleyball may seem deceivingly easy, but there is much more than what appears to the viewers' eye. Preciseness in passing, awareness, and timing all come into play.
The hope is to spread the game of volleyball to more guys while also raising money for our school's prom. The tournament will take place on Thursday April 13th at 6:30 and will be a five-dollar entry fee at the door. Hopefully, we will see you there!