Storm!  
Have you ever wanted to help your community? Maybe help animals, people, and make your community a better place? Well, every other Wednesday here at Huntingtown High School we get together with our STORM groups and talk about raising money for local charities that are assigned to our STORM groups.
The STORM sponsors here at Huntingtown are Mrs. White and Mrs. Wilkosz. The four charities chosen were chosen because as Mrs. White describes, these were the four charities that the STORM sponsors thought would make the biggest impact on the students here at Huntingtown. Mrs. Wilkosz comments, "This is the first year we are running STORM this way, so there have been hits and misses. Some STORM groups have knocked it out of the park and others have come up short but learned valuable lessons." There are some STORM groups that end up not participating, but Huntingtown's hope is for everyone to see the value in what is happening and eventually want to join the fun!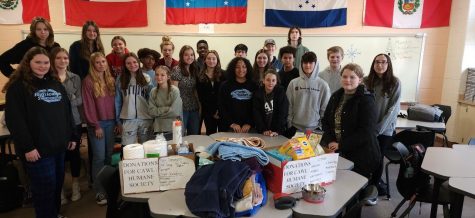 The first STORM charity that the 9th grade STORM groups are assigned is called CAWL and the humane society. Calvert Animal Welfare League (CAWL) is where you can donate dog treats, toys, and food. They also receive old towels, and cleaning supplies. Mrs. Connolly's STORM group packed up 122 donations for the blanket and towel drive supporting the local animal shelter.
The second STORM charity that the 10th grade STORM group is working on around and throughout Huntingtown High school is to meet needs in the building. This Group is for all students to help around the school. One student washed Mrs. Wilkosz's windows in her classroom. There's also the backpack program, and students or teachers can donate hygiene products.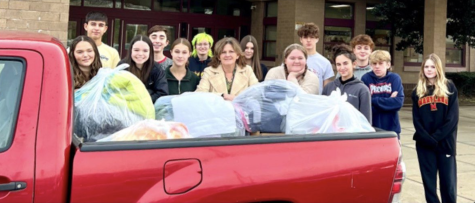 The third STORM charity that the 11th grade STORM group is working  on is with Project Echo. In 1992 the Ecumenical Council of Calvert County formed a task force to start a homeless shelter.  Echo stands for Ecumenical Council for the HOmesless. In 1993 their emergency shelter opened with 16 beds. HHS is donating laundry detergent, clothing, coats, plates, cups, napkins, etc.
Finally, the fourth STORM charity that the 12th grade group is working is with Farming4Hunger. Farming4Hunger is a non-profit organization formed in 2012 to serve those in need of fresh food in Southern Maryland. The organization grows and distributes over a million pounds of locally grown, fresh food each year. Students can donate paper products, soap, etc. Mrs. Daeleman's group made hot chocolate bundles, little key chain ornaments, and chocolate candy pretzels to sell at the winter concert back in December and raised money to donate.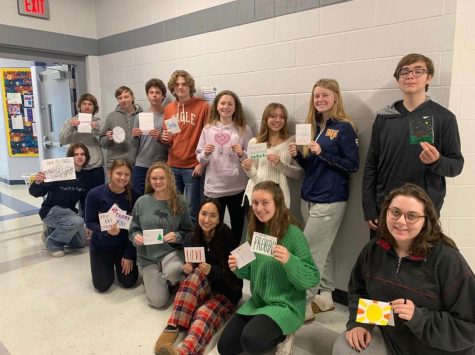 As the groups progress, Mrs. White states, "STORMS have learned how to problem solve and work together, in addition to providing the community with items they need." Overall, the process forces students to think about the needs of others, how to work as a team, and how to continuously improve themselves. Mrs. White states, "Every charity has been grateful."  She also comments, "I think STORM can help to make a difference in how students interact with their community." The charity and students will start to have positive relationships that may not have existed before. To sum up, every STORM has donated to their assigned charity and they are making our community a better place!