The Student Soldier 
Ever since we could remember, adults have frequently asked us this simple question: "What do you want to be when you grow up?" Usually, the response would include several "umm's" and "hmm's." For senior Noah Pérez, however, this answer is clear. Out of the hundreds of students at Huntingtown High School, Noah is the only student who's already enlisted in the Army National Guard.
Joining the Hurricane community in the beginning of his junior year in 2021, Noah has established himself as a reliable and determined student. "I get my work done," Noah stated, "I'm taking a couple rigorous classes such as honors comp & rhet and AP Calculus 1. I mostly tend to the NJROTC Unit though." He also maintains a solid A average in AP Calculus.
Out of 102 cadets, Noah is the Unit's XO (executive officer), the second in command and if you haven't figured it out already, it's anything but an easy job. As XO, Noah represents not only himself, but the entirety of the Huntingtown NJORTC unit. Inside and outside the classroom, Noah is a leader who pushes everyone to be the best they can be. "As a leader I've learned how to act as an example while working diligently with my team to explain what needs to be done." Noah reveals, "It's important to not stress about problems by taking a step back and looking at things from a wider perspective."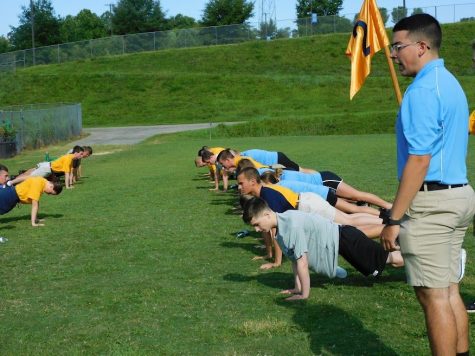 Serving in the United States military has always been Noah's dream. Since age four, he's always looked up to law enforcement officers and military members. "I've had some difficult times in my life, so police officers were kind of like a safe haven for me." He recalls, "So, at that point I decided that I wanted to be a soldier or police officer and protect people."
Out of everyone in his life, Noah's stepfather James Welsh, has impacted him the most. Entering his life when he was twelve years old, Welsh, also a U.S. Army Veteran, shaped Noah into the man he is today.
When Noah turned seventeen, he enlisted in the Army National Guard. "My process was very simple. I reached out to the local Army Recruiter, gave him some basic info, and told him what I wanted to do. I took the ASVAB, which told me what jobs I could go for. About two weeks later I was at the military entrance processing station in Fort Meade, MD, where I was sworn in."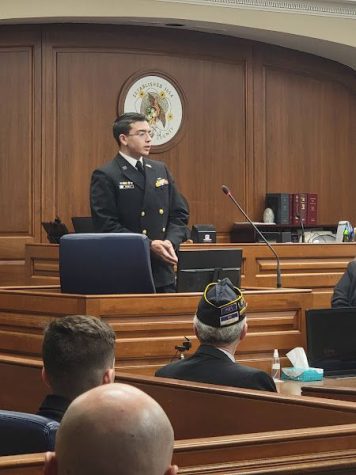 For Noah, balancing school and his job isn't difficult at all. Once a month, He travels with his platoon for special physical training, drill practices, and team building. "It's not too hard for me." Noah says, "I just need to be mindful of my physical readiness, making sure I'm eating enough, and getting enough sleep, which is a huge part of it."
As graduation rapidly approaches, there are likely many seniors still trying to find the answer to the question "What do you want to do when you grow up?" But for Noah Perez he is secure in the knowledge that the next phase of life is defined by how he has lived the recent past. Noah has been honing himself for that moment when he goes from student to soldier. Based on how well he has performed as the XO of HHS NJROTC, we know he will excel!
About the Writer
Elizabeth Polo 
Elizabeth Polo is currently a senior at Huntingtown High School and has been a writer for The Forecast since her Freshman year. She plays field hockey...