Why is Austin Butler Still Talking Like Elvis?
Over one billion records sold worldwide. More than fifty movies starring him, each selling out in the cinema. And at least one hundred different jumpsuits with sequins reflecting the spotlight so brightly the only thing you see is him. The king of Rock 'n' Roll. You won't meet a person alive who hasn't heard the name Elvis Presley. Known for his twangy resonance and devilish grin, his shaky leg, and curling upper lip. The renowned baritone got his own biopic on June 24, 2022, almost 45 years after he sadly passed on August 16th, 1977.
The Elvis biopic, directed and produced by the adept Baz Luhrmann, was one of the main topics of discussion among both adults and adolescents two years before its release. The controversy surrounding Austin Butler not having the talent or decorum to take on the role of such a decorated and adored singer/actor/soldier was fixated on everyone's mind. "He hasn't had enough experience." "Does anyone even know who this guy is?" "He looks nothing like Elvis." Something people often forget is that actors do not have to look exactly like the person they are portraying or have been in movies since they wore diapers to do an ovation-deserving performance. And that is exactly the performance Austin Butler gives in this film. It was a performance that was so enriched with knowledge and rehearsal, that even now, almost two years after filming for the movie wrapped, Austin is still "talking like Elvis". This is a colossal problem in a lot of people's eyes.
If you watch some of Austin's earlier projects, such as Once Upon a Time…In Hollywood, The Shannara Chronicles, or even Sharpay's Fabulous Adventure, if you're feeling nostalgic. Austin has a commonplace, generally very regular speaking voice. Nothing you could identify with your eyes closed like Morgan Freeman or Tom Hanks. Now, this is in no regard an insult to Austin's prior speaking voice; this is just to point out that there was an obvious change. Austin went from speaking with a puberty-ridden, adolescent, boyish voice, to a kind of sultry, deep, and slower tone. He has not adopted Elvis' signature Tennessee accent or a verbatim copy of his voice, but there are some aspects of the Memphis-raised heartthrob's voice that Austin picked up while playing him. But this change should not be that surprising at all. For instance, have you ever talked in a British accent just for fun and found it difficult to stop because it was just so fun, or you did it long enough to get accustomed to it? If the answer to that question is yes, now imagine talking with that British accent every day, for two whole years. It would be exceptionally hard to drop it completely, if at all. Another thing to remember is that even though he's in his early thirties, Austin is still changing and growing. His voice is going to change as he gets older.
Along with his voice changing, his technique of preparation for a movie role also changed. Many actors undertake method acting. This is when an actor does not step out of their character's personality after the director says "cut". Method actors sometimes isolate themselves from the rest of the world to really understand their character. Most actors who do this deliver exceptional performances. Actors such as Meryl Streep, Daniel Day-Lewis, Jack Nicholson, and even the late Marilyn Monroe have adopted method-acted. Austin Butler achieved a great performance in Elvis through method acting. Austin completely delved into this role; he didn't see his family for nearly three years. Austin immersed himself in everything Elvis did. He had a movement coach with whom he trained every day to help him dance, walk, and sway like the singer. He studied concert footage to acquire a tone like Elvis' in his singing parts in the film.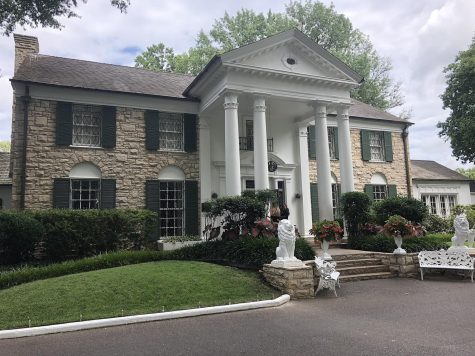 Austin even visited Elvis' house, Graceland in Memphis, Tennessee, to connect even more with Elvis' spirit and past. Graceland is also where he had many conversations with Priscilla Presley, Elvis' ex-wife. In the process of acquiring the iconic Elvis accent, Austin would go on walks and listen to tapes of Elvis just talking. He would even listen to the tapes as he fell asleep. I'm sure if we asked Austin what playlist he most recently listened to, we'd find some Elvis on it. Now, these methods should give you an idea of how involved with this role Austin was, and how much preparation he put into everything, especially his voice. A person's voice is a hefty component of what identifies them, and if Austin had not gone to the lengths  he had to prepare his voice, people would be saying he doesn't sound enough like Elvis. They would say he should've prepared more. So now, hopefully, you can grasp an idea of how atypical it is for Austin to be expected to drop the voice he's been accustomed to talking with, for the past two to three years, just a couple of months after the film has been released.
Overall, I don't think we should be complaining about how Austin still kind of sounds like Elvis, but rather about the incredible performance Austin puts on, a performance making it almost impossible for us to take our eyes off the screen; a performance that almost convinced us Austin was Elvis. But let's remember—-he's not Elvis, even though he still sounds a little bit like him.
Sources:
Austin Butler & Janelle Monáe | Actors on Actors
(Source for Austin's preparation methods)
https://castingfrontier.com/actors-thoughts-on-method-acting/
(Source for actors who method act)