The House of the Heart Attack Sandwich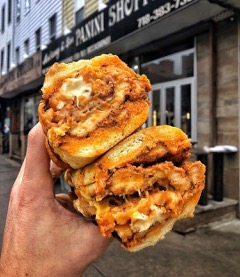 Freshly made chicken cutlet, vodka sauce, American cheese, crispy bacon, waffle fries, and mozzarella sticks between bread. This is the Matt and Steve hero 2.0 at family-owned and operated panini shoppe in Brooklyn. Opened in 1994 by Antonion "Anthony" Curcio started this company with only 350$ was the biggest risk of is his life but it had the best reward.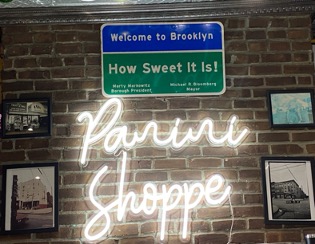 As I was scrolling through TikTok what was probably 6 months ago I saw a sandwich that to me looked like the American culinary dream, all fried and fatty, but perfect. True it's a little unhealthy and it might be a little full of grease but if you're not worried about your health and only about the quality of the food this sandwich is perfection. But don't let my favorite sandwich at Anthony and son Panini shop turn you away. They have incredibly good Sandwiches that are cold cut Italian style Subs and healthier hot sandwiches they have a wide range of food and things to choose from. They also operate as a grocery store and deli of some sort. When you walk inside to Anthony and son's Panini shop you feel like you step back in time. To when grocery stores and lunch counters came almost hand in hand every time this nostalgic feeling is particularly important to the feel of Anthony and sons Panini shop. Being opened in the 90s it first operated as grocery store and only a grocery store, and anywhere in town that you needed something you went there. Soon after it became a grocery store Antonio knew they needed something more, so pulling on their previous years of kitchen experience, they created the Panini shop and started making sandwiches. From there Antonio went on to create a nostalgic sandwich shop that draws customers from across the country to try their amazing and delicious sandwiches.