Covered in Fame
The Name of The Face
 Who is she and how has she earned her popularity? If you know anything about women's soccer, it's almost guaranteed that you've heard of Alex Morgan. She is the youngest women's national soccer player in the FIFA World Cup at the age of 22. This woman is one of the most inspirational people when it comes to soccer. With her hard work and determination, it's outstanding what she has done to get where she is.
All About Alex
 Alex Morgan, also known as Alexandra Patricia Morgan, was born in San Dimas, California, but grew up in Diamond Bar, California. Born on July 2nd, 1989, Alex found her love for soccer around the age of 14. Playing on multiple teams growing up, she started on the Cypress Elite club team. This is the time when she started to really like soccer and take it seriously. Focusing on the technique and skill it takes to go professional, she showed her talent to get where she is now.
Alex Morgan was recruited to play college ball at the University of California at Berkeley. After 3 years at Berkeley, she had been drafted, being the number one pick for the Western New York Flash for Women's Professional Soccer. She has been to the FIFA World Cup in 2011, scoring a goal, and coming in second with a sad loss to Japan. Even though they lost, Alex couldn't help but be pushed more to get better and stronger, leading to her joining the US Olympics women's soccer team. In 2019 Alex Morgan led the US Women's National Soccer team to the World Cup Finals winning against the Netherlands. She had by then won four world cup titles and multiple medals. As of now, Morgan is still a part of the National Women's Soccer Team, striving to be the best she can be.
Working to accomplish everything she'd like, she and several teammates in 2019 have been working hard to make fair pay between men's and women's professional soccer. Her teammates and she realized men's soccer gets higher pay than women's. This isn't fair seeing as both work just as hard and their careers are the same. This is a type of gender discrimination and as we can see Alex isn't here for it. They accomplished their goal by getting the federal district court to agree to give men and women the same conditions, $24 million, and equal pay from there on out for all matches and tournaments.
Other than soccer
 After all the time and effort put into becoming a professional soccer player, somehow, she has had time to make even more accomplishments including her own movie, and a series of books. It is an outstanding thing to be a part of a movie, sell multiple books, and become a professional athlete in one lifetime.
The movie Alex Morgan starred in is called Alex and Me. It was released in 2018. The movie is about a young teenage girl who loves Alex Morgan and dreams to play as well as she. Somehow the poster in the girl's bedroom comes to life, and Alex ends up teaching her how to be determined and the ropes to how she got where she is to this day in her soccer career. You are able to see this movie on multiple services including Google Play Movies & TV, Apple TV, Redbox, Vudu, Amazon Prime Video, and Hulu. This movie was a good example to all the young teenage kids who love soccer that even if you're going through a rough patch with your training you need to stick with it because it will get better if you keep trying. But the movie inspired more than just soccer players. It taught everyone that determination can get you where you want and by Alex accomplishing her goals it inspired others.
Not only does Alex Morgan have her own movie, but even a short television show called The Kicks, a one-season show that has to do with the books she had published. Available to watch on Amazon Prime Video, the movie allowed her to create something that further inspired others.
She has published her own series of books called The Kicks, for middle schoolers. In the series, she teaches them about the importance of teamwork and patience in soccer, and the means it took for her in her own experiences to achieve so much. The different books within this series are Saving the Tea, (2013), Shaken Up (2015), and Under Pressure (2017). Following the series publication, she also came out with the memoir Breakaway: Beyond The Goal.
Who Does She Represent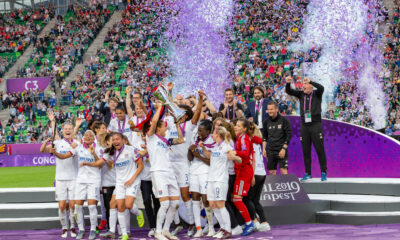 Although we know who Alex Morgan is, do we know who is she when on the field? Sometimes when we look at a person who has become famous, we notice that they tend to become overconfident. We see people all the time change their personalities when they think nobody's watching or aren't thinking about the situation. So, when we look into how someone acts when they play a sport, we tend to assume they turn into a different person because the sport changes their mindsets. That's quite the opposite for Morgan.
            Alex Morgan plays as a striker, scoring goals and carrying her team. All the times when she and her teammates have had disagreements, she has stayed humble through it all. She is always seen celebrating with her team and smiling on the field. And after a loss, she knows who she is and can work on getting better with her team. She has the most robust mindset and balances her emotions well, knowing when she's done bad and good and not taking it out on others. We're able to see this through the fact that she is the captain of the San Diego Wave FC Women's National Soccer Team.
Where is she now?
 Other than Alex Morgan's outstanding achievements within her soccer career and her publications, she has just as good a life outside of soccer. Married on December 31, 2014, at the age of 25, she decided to spend the rest of her life with Servando Carrasco, a pro soccer player himself. The two have a beautiful daughter named Charlie Elana, born on May 7th of 2020. She is now 2 years old, living a great life. They live a happy life together and seeing the household that little Charlie will be growing up in, it's bound that they'll have a little professional soccer player of their own. Only time will tell. Living out her dream life, we all stand by and watch the success Alex Morgan has and will continue to strive for.
Works Cited
"Alex Morgan." Team USA, https://www.teamusa.org/us-soccer/athletes/alex-morgan. Accessed 20 October 2022.
"Alex Morgan." Wikipedia, https://en.wikipedia.org/wiki/Alex_Morgan. Accessed 20 October 2022.
"Alex Morgan Bio And Facts – Soccer Players." Rookie Road, https://www.rookieroad.com/soccer/alex-morgan-bio-and-facts/. Accessed 20 October 2022.
Guttmann, Allen. "Alex Morgan | Biography, World Cup, & Facts." Britannica, https://www.britannica.com/biography/Alex-Morgan. Accessed 20 October 2022.