Fantasy Football for Dummies
Every year come August; excitement begins to spark among football fans across the globe. Even more so for those who partake in a fantasy football league. Most people don't understand the ins and outs of fantasy football. How do you win? How do you get points? Where do you pick your players?
Fantasy is not only something people do for fun, it also helps you to further understand the game and the NFL. Managers pay attention to coaching staff changes, free agents who are signed, the NFL draft, how players are supposed to be used within their offense, and more. Fantasy football is something that allows you to expand your knowledge about the NFL.
Scoring
Most leagues are played as full PPR (point per reception) or half PPR (half point per reception). This means for every catch a player gets they would get one point in full PPR leagues or half a point in half PPR. The rest of the scoring can get a little confusing. While each position has its own responsibility, there are special occasions where a running back may throw a touchdown, or a receiver could fumble. So, points will be broken down into offensive points, defensive points, and kicker points.
Offensive
04 per throwing yard
1 per rushing yard
4 per passing touchdown
6 per rushing touchdown
-2 per interception
-2 per fumble
Defensive
Defensive scoring can be kind of tricky. When your team's defense kicks off, your defense starts with 10 points. The better a defense performs, the better they can keep those initial points, and have the ability to add on to that total through several defensive stats.
2 points per fumble or interception
6 points for touchdown scored
To simplify the rest, the defenses start with 10 points. 5 for not allowing any yards yet, and 5 for not allowing any points yet, those decrease as those statistics go up.
Kicker
1 point for each PAT made (PAT is the kick that often comes after a touchdown)
-1 point for each missed Field Goal (Kick's that do not come after the touchdown)
3 points for a made Field Goal from 0-39 yards
4 points for a made Field Goal from 40-49 yards
5 points for a made Field Goal from 50-59 yards
The Draft
Teams are formed through a draft.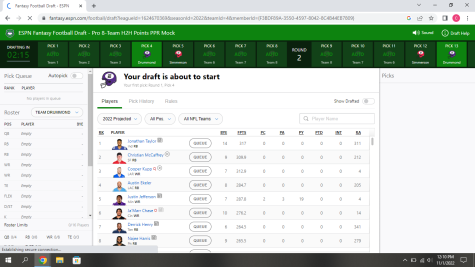 The league manager (creator of the league) sets a date and time that accommodates as many team managers (your league-mates; owners of other teams) as possible. Most drafts in standard league formats are snake drafts. Say there are ten people in your league, and you have the first pick (or the 1.01), after your selection the other nine members make their picks in the first round and then the draft order reverses. You would not have the first pick at the beginning of the second round, you would have the last pick, and the person who had the tenth pick would also have the eleventh pick (or the 2.01).
When drafting, team managers consider players who will get a high target share (passes from quarterback), lots of opportunities, red zone (close to the end zone) work, and players in a high-powered offense. Players who receive a high target share will most likely get your team more points because they will receive points for every catch. Obviously, managers look for talent, but some players who are more talented aren't always the first option on a team. For example, Tee Higgins (wide receiver, Cincinnati Bengals) is a very talented wide receiver, but he is a third option behind Jamarr Chase and Joe Mixon. So, while he may be a more talented wide receiver than other options, he won't go as high in drafts due to his opportunity not being there.
To be most successful, it is beneficial to know players' skill levels and how the offense operates. But if you are less knowledgeable about the actual game, don't worry! Drafts often have players placed in an order showing what a player is projected to do, so you will have some guidance.
How do I improve my team?
Once your team is drafted, that isn't when you stop trying to improve your team. You have the same team the rest of the year until you make some roster moves. Trades, free agents, and waiver wire pick-ups are all ways to help develop your team into one you love. Trading is something that can be difficult because both sides want the better end of the deal. One way to approach trading is the buy-low, sell-high strategy. If a great player has a bad week or two, and the manager who has them begins to panic, you can buy low. You can trade less valuable pieces with the hope to bring in a player who will begin performing where you think they should be again. To "sell high" means you have a player who is outperforming expectations and is expected to drop off. You can look to trade them prior to their value decreasing again and get players who will be better through the rest of the season.
Free agents are players available throughout the week until the post-Monday game. From Wednesday to pregame on Sunday you can add and drop players from your roster at will. These players are free agents and are not restricted by anything but how many roster spots you have. If a player who is playing well is still available, go pick them up as soon as you can, because once Monday night hits you may have lost your chance.
Once the NFL week has ended, players who were free agents, now hit the waiver wire. Each league has a waiver order. If you don't use your waiver pick-up you will have a higher position on the waiver order in weeks to come. Picking up players off waivers is very similar to free agency except, there's one catch. If you and your league mate both want to pick up the same player, whoever has the higher position on the waiver order will get the desired player, which could hurt your team. Waiver wire pickups are often a week-to-week decision. The waiver wire is put in place to protect league managers from instantly picking up an injured player's back-up or someone who was recently dropped from a team.
Draft Strategies
Depending on the league, players per position change. The standard though, is one quarterback, two running backs, two wide receivers, a tight end, a flex position which can be a receiver, running back, or tight end, one defense, one kicker, and seven bench slots. This is also a huge part of the draft process and helps players to develop strategies. For example, some people believe in a strategy called "Zero RB (running back)." In this strategy, team managers only draft receivers through the first five or six rounds because they believe having a powerhouse receiving core with lots of reception upside is better than having elite running backs, while others target running backs first.
How many ways to play are there?
While the most common way to play is by starting fresh with a newly drafted team each year, there are other league formats. The second most common is called a dynasty league. Dynasty leagues are much different because each year you can select a certain number of players to keep on your team from one year to the next. This makes drafts look much different. The top dogs in the league such as Justin Jefferson would probably not be available in your draft. Instead, early round draft picks are selected based on future upside. Since you can keep certain players from year to year, often rookies are taken in the first or second round because they are expected to be great players in years to come. This year, the main player that managers targeted in dynasty drafts was Breece Hall, a rookie running back with tons of upside in the rushing and passing game.
Some leagues are played with different players per position. Some leagues are played with a super flex, meaning the flex position is open to not only receivers, running backs, and tight ends, but to all positions, including quarterbacks. Some leagues play with three receivers instead of two, or two flexes instead of one. These changes are made to keep a league more competitive because you will have more slots to fill with starting caliber players.
If you had ever heard about fantasy football or if this is your first-time hearing about it, this should help you get started if you aspire to be a future Fantasy League Champion. Once you reach your final goal at the end of season, it is time to begin preparing for next year's draft.