Autumn Activities and Tricky Treats
(With accompanying videos/photos for each treat)
Pumpkin spice, colorful leaves, frightful freaks, and a crisp breeze! What's more to love than fall! As Mother Nature gives the world her last bright smile before the cold, harsh winter, it's only necessary to go and make some memories with your loved ones… because we all know that this year's end is the day's new beginning!
Without further ado, here are my personal favorites!
Spooky Toilet Paper Monsters:
With this activity, you can become the next Dr. Frankenstein and create your own monster! Whether it be a mummy, the boogey man, a fanged vampire, or your own unique, bone chilling creature, it's sure to create frightful fun for everyone!
For supplies you will need:
Paint and brushes
Toilet paper rolls
Googly eyes
Colorful construction paper
Glue
Markers
Once you've gathered all your materials, put your mad mind to work and create a monstrosity!
Slime Popcorn: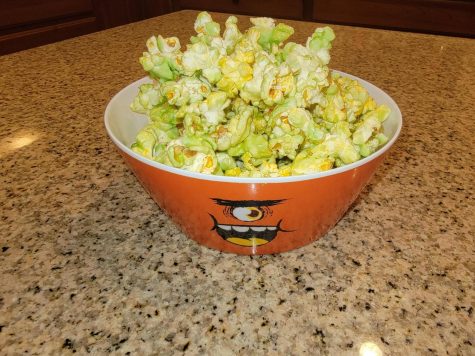 Halloween is the perfect time to sit back and grind on a horror movie marathon! And let me tell you, there's no better thing as a good scary movie than huddling under a blanket while munching on some snacks. This sweet and salty popcorn recipe will make you scream with delight!
With these very simple ingredients, you will need:
2 Microwaveable popcorn bags
½ cup of brown sugar
8 tbsp of unsalted butter
2 cups of mini marshmallows
6 drops of green food dye
To learn how to make slime popcorn, watch the video below:
Candy Corn Man:
Candy corn is probably the most controversial treat during the Fall season. Whether you love it or hate it, there's no denying that it is one of the most iconic treats this time of year. For this craft, we'll look past the taste and focus on making a sweet new friend!
For supplies you will need:
White, yellow, and orange construction paper

This little guy is sweet like candy!

Glue
Googly eyes
Markers
To make your candy corn man, cut the white construction paper in the shape of the triangle kernel. For the yellow and orange paper, cut them so they fill the bottom and middle sections of the kernel and glue them to the white paper.
For the arms and legs, take four strands of paper (two yellow and two orange) and fold them like an accordion. Glue them to the sides of your candy corn man.
Glue the googly eyes and draw a mouth on your candy corn man to make a face, and voilà… you're all done!
Pumpkin Chocolate Chip Cookies: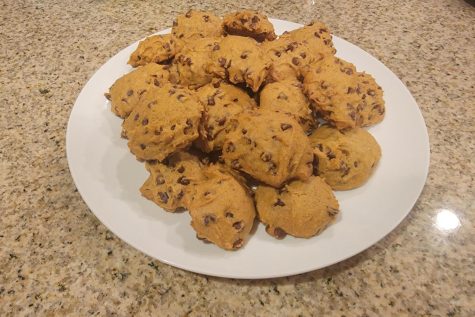 Pumpkin spice makes everything nice, and that's no exception for these delicious cookies! Warm cookies and milk are perfect for a chilly fall day, and that's a fact!
For the ingredients, you will need:
1 cup of melted butter
1 cup of brown sugar
2 tsp. vanilla extract
½ cup of granulated sugar
2/3 cup of canned pumpkin
3 cups of all-purpose flour
4 tsp. pumpkin spice
½ tsp. baking soda
½ tsp. baking powder
1 ½ tsp. kosher salt
2 cups of semi-sweet chocolate chips
To learn how to make these cookies, watch the video below:
Since fall has arrived in full force, I hope you all feel inspired to mark these down on your to do list!
About the Contributor
Elizabeth Polo
Elizabeth Polo is currently a senior at Huntingtown High School and has been a writer for The Forecast since her Freshman year. She plays field hockey...