Picture Perfect
We're all familiar with the saying "A picture is worth a thousand words". Whether it's a beautiful landscape or a selfie of you hanging out with your friends, pictures have the power to capture the emotions and memories in any moment. For local senior photographer Brittany Johnson, however, her photos are worth four years of her client's lives. Four years' worth of memories. Four years' worth of growth. Four years' worth of self-discovery. Four years of the best time of their lives.
I first discovered Brittany and her self-made business, Dunks Photo Teens, back in 2021 while admiring the senior photoshoots taken of my many graduating friends on Instagram. Every photo that was taken seemed to highlight their personalities perfectly. Looking at them all got me thinking ahead about my own senior photoshoot and what elements of those photos would express who I am.
As time went on, I put my ambitions for my senior photos aside… until the words "Team 23" were plastered across my Instagram feed in the Spring of 2022. What could this be about? I thought. The more I looked into it, I found out that Team 23 was an opportunity for upcoming senior girls to become the face of Dunks Photo Teens for the 2022-2023 school year and to be a part of various photoshoots.
Now, I've been a writer for The Forecast ever since my freshman year. I've always been the person taking and supplying photos for my articles… not the one who's featured in them! I never thought of myself as any sort of model whatsoever, but I figured that high school was a time for trying out new things and broadening new horizons! So, without a second thought, I submitted my application.
A few days later I scheduled my virtual interview with Brittany. We went on to talk about school, hobbies, things to look forward to during summer vacation, and most importantly, why I wanted to be a part of the team… And that seemed to do the trick because at the end of my interview I was the newest member of Team 23!
Our first photoshoot was scheduled for June 15th, 2022, at Ward Farm recreational park in Dunkirk. To match the rustic setting, our theme was "country concert." As I made my way to the barn, cowgirl hat and all, I met up with 11 other girls who were also on the team. Five of these were Huntingtown's very own Emma Helwig, Bridget Buck, Marissa May, Madelyn Bren, and Taylor McGowen. It was interesting to learn all about the components of a good photo from a professional.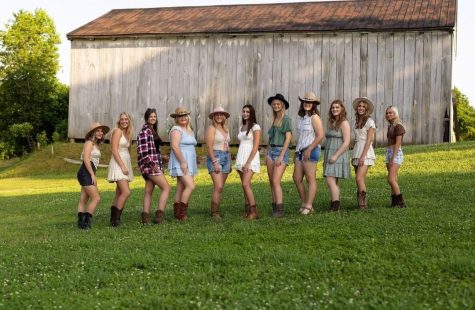 A few months later I got the chance to schedule my very own personal senior photoshoot which happened on Sunday, August 14th, 2022, at 5:00 PM. At this point in time, I knew exactly what I wanted to include in my photos: field hockey, NJROTC, and the rich, natural beauty of Calvert County… especially the Chesapeake Bay. So, when I talked with Brittany about my vision, she worked out a master plan to include all the special things that I wanted.
So, what was this master plan you might ask? Well, my shoot took place at multiple locations. First at the sunrise garden and boardwalk in North Beach and second, Huntingtown High School. To be sure I was always looking my best, Brittany also scheduled Macie, a professional hair and makeup artist who would arrive in the morning!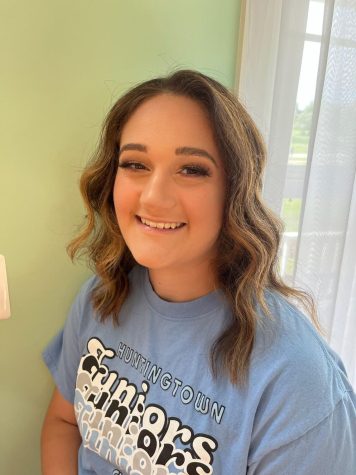 When August 14th finally came, I couldn't wait to take my pictures. Macie arrived at around 10:00 AM to attack my face and hair with an assortment of tools, sprays, and pallets. Once I was all dolled up, Brittany, my mom, and I met up at the sunrise garden in North Beach to tackle stage one of our photoshoot: the classy photos.
Everything was going perfectly! Brittany had an excellent level of communication that made the whole photo taking process go smoothly. While taking the photos, I even had my dog, Rosie, stop by and join in on the fun! Once we got tired of being sprawled out amongst the garden's flowers, we headed over to the salty smelling boardwalk just a street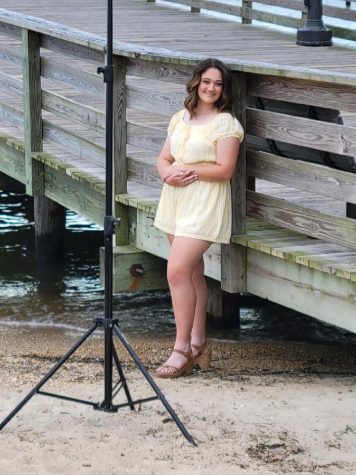 away. Besides a few wobbly floorboards and sandy shoes, the pictures on the boardwalk went very well!
After that we made our way towards the glorious field hockey field of HHS, where I finally got to show off my mighty -but smelly – goalie gear. At this point in our shoot, we were rushing to beat the weather. Dark, ominous clouds formed over our heads and little by little rain speckled our skin. Thankfully we only had one more set of photos to take, which were of me in my NJROTC uniform. I quickly put my hair into a bun and changed in what Brittany calls "the avocado tent". For these photos, Brittany had me posing up beside the wall of the school… and with just a snap, click, and a flash later, we were finally done with our photoshoot!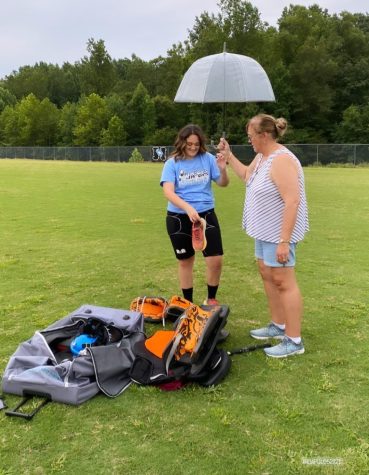 In the weeks following my photoshoot with Brittany, I realized what an important job she has within our community. With just her camera, she has the power to capture our entire story of how we got to where we are right now, but also where we might end up in the future, all in a few pictures. Her photography has the power to create a newfound confidence in her subjects… I mean, not everyone can turn a nerdy newspaper editor into a model overnight! So, to you, my dear reader, I ask you to ponder this one question: How will you capture your story?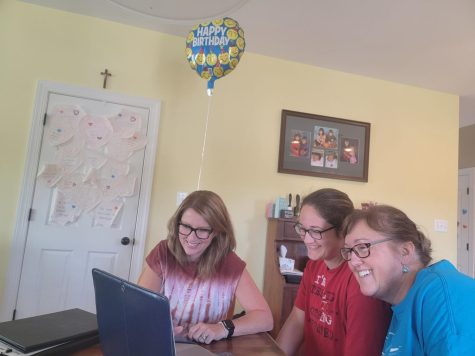 If you're interested in contacting Brittany or Macie, feel free to use the contact information below!
Brittany: www.dunksphototeens.com
@Dunksphototeens on all social media platforms
Macie:
Instagram- maciewiththegoodhair
About the Contributor
Elizabeth Polo
Elizabeth Polo is currently a senior at Huntingtown High School and has been a writer for The Forecast since her Freshman year. She plays field hockey...