Orienteering with NJROTC
Adrenaline rushes through your veins as the competition begins. You breathe heavily, running at full pace, attempting to be the first to reach the end. But there's a twist. You find yourself in the middle of nowhere, with two key objects at hand.  A compass, and a map. You look down in utter confusion. This is easy, right?
Orienteering – it's been around for a while. The origins of the sport are found in the late 19th century of Sweden. It goes back to 1886 when it was first used at the Swedish Military Academy, "Karlberg." Later after competitions skyrocketed, Orienteering spread to  Finland, Switzerland, and even Hungary. Orienteering was also originally a form of Land Navigation for Military Officers.
What is Orienteering? Well to top things off, it's land navigation at its finest. It is a general group of sports, requiring knowledge in Land Navigation Skills, such as use of a compass and map. It typically involves running from one point to another on unfamiliar terrain, competing against other participants.
Now running maybe isn't your thing, but maybe you would enjoy Mountain Biking, Skiing, Trailing, or maybe even Canoe Orienteering.
All is up to you. Within Orienteering there is so much to learn and so much to do, your options are endless. The Naval Junior Reserve Officer Training Corps or NJROTC for short, at Huntingtown High School, offers just that. A free to join team designed for competing and participating in Orienteering events and teaching you how to use a compass and navigate efficiently.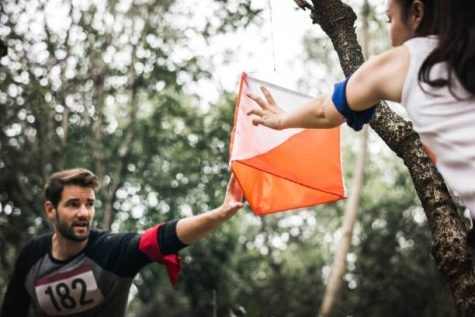 NJROTC. Sounds scary right? Well really, it isn't. Many misconceive NJROTC as a military program, or a program for people who only want to join the United States Military, when in truth it isn't. Makenna Curry has written an article on all you need to know about NJROTC here at HHS, and how you can join. On to Orienteering though. The team and all sessions are completely free, meaning all you have to do is join and  attend.
The experience is amazing, not just in Orienteering but in NJROTC as well. You learn so much, that with even little experience, you can become an expert in minutes. The Orienteering Team Commander told me, "I would say that Orienteering is the best team in the Unit. Not only because we learn and grow as a team both physically and mentally, but it also lets people find the best way for them to get a good score, and settle in. It simply means you will find your own way to fit in with the team, and trust me, you will."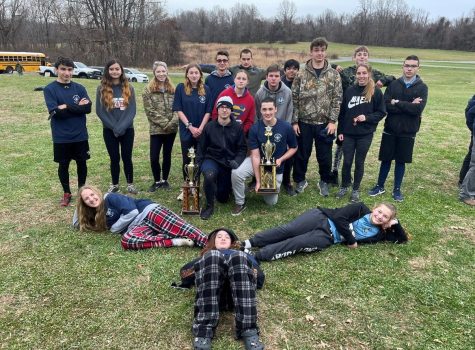 In general, Orienteering is a blast, and if you're interested, we can't wait to see you at a meet! All other information you need to know will be given to you upon joining NJROTC. Never give up!