CCPS Teacher of the Year: Mrs. Rachael Ulmer
"The influence of teachers extends beyond the classroom, well into the future."
– F. Sionil Jose
Whether it be their teaching, how they helped you outside of class, or just their overall presence, we all have one teacher who influences us well beyond the classroom. For so many students, past and present, this teacher is Mrs. Rachael Ulmer, the 2022 Calvert County Public School's Teacher of the Year. An HHS 2020 graduate, Willow Cooper, explained how Mrs. Ulmer has impacted her personally. "To this day I think about Mrs. Ulmer, when I have small accomplishments, when I am writing in college, after lacrosse games, and so many other times." Cooper recalled.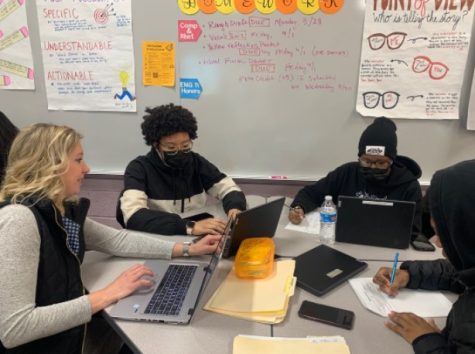 Hard Work Paying Off
Mrs. Ulmer is an English teacher at HHS who goes above and beyond for not only her students but the entire staff. "She is very available to her students," explained Dr. Charlebois, a fellow English teacher. "She engages in her practice, meaning she is constantly writing, reading, and modeling how to be a good reader and writer." Charlebois stressed how much Mrs. Ulmer reflects on her work, past and present, to improve her craft, and how she is a reliable figure both inside and outside of the classroom.
In most cases, one of the best ways to learn something new, or improve on something you already know, is to observe the people around you. Mrs. Ulmer credits her fellow staff members for keeping her informed and helping her become a better teacher. "I have had a lot of different experiences teaching, which gives me a lot of lenses and perspective when I teach," Ulmer explained. "But the English department here is just an incredible group of people who are really talented when it comes down to the craft of teaching," Ulmer explained, happily.
Mrs. Ulmer explained how one of her favorite parts of teaching is seeing her past and present students succeed. "Mrs. Ulmer made one of the most positive impacts on my life throughout my time in Calvert County Public Schools," Willow Cooper conveyed. "I genuinely do not think I would be where I am today without her. I was in and out of trouble with issues at home, and I was becoming a path of destruction. She believed in me and told me what I needed to hear. Mrs. Ulmer is really the type of teacher to change the world." Willow also reminisced about when she joined Mrs. Ulmer's book club, everyone got a chance to talk and share how fun the overall experience was. In this book club, Mrs. Ulmer and her students would read a section of a book, then whenever the club would meet, the book analysis would begin!
Getting Where You are Today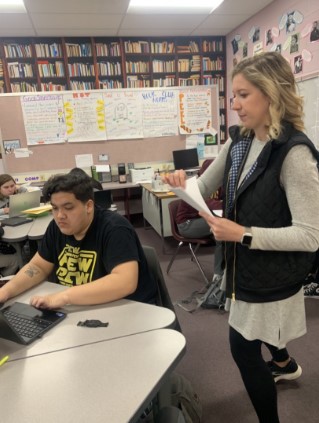 Like any prestigious award, there is a process toward becoming Teacher of the Year. At the school level, teachers are asked to "nominate" their peers to win this award. "You have to be employed by the county for about three years, and at that point, teachers would write a 'blurb' about what makes them a great candidate." After you have been selected as teacher of the year, you will meet with the board for an interview! "You are given three minutes per question, and you just answer to the best of your ability why you should be teacher of the year!"
When Ulmer is not teaching her 11th and 12th grade students, she can be found spending time with her husband and three children; all of whom enjoy participating in different activities throughout the county. She can also be found watching her children play field hockey and lacrosse during the sports season.
As a student of Mrs. UImer, I can personally attest to what a truly fantastic teacher the HHS community has upon them. Even on your worst day, you will leave UImer's class with a smile and a better outlook on the day. Mrs. Ulmer truly cares about her students, and teachers with the heart and kindness of Mrs. Ulmer are as rare as gold. Finally, to quote Willow Cooper, "She was there when I needed her most, and Mrs. Ulmer is one of those teachers that you just don't forget."