The Madness of March
The undying excitement, the endless upsets, the Cinderella stories, and the breaking of brackets are all a part of what makes March Madness mad. The month of March is much anticipated when it comes to fans of college basketball. This year's tournament has already had much of what makes the tournament great. One of the greatest runs by a fifteen seed ever, Duke and North Carolina meet in the Final Four, and only one one seed remains.
How the Bracket is Made
It all starts with Selection Sunday, usually a week or two into March. Teams wait anxiously together at viewing parties, or in their arena. A total of sixty-four teams get seeded from one to sixteen in each of the four divisions, East, South, West, Midwest. Some teams were guaranteed a spot if they won their conference championship. For fans, they patiently wait for their team's name to be called, and more importantly, for the final team to be called. That's where the fun begins.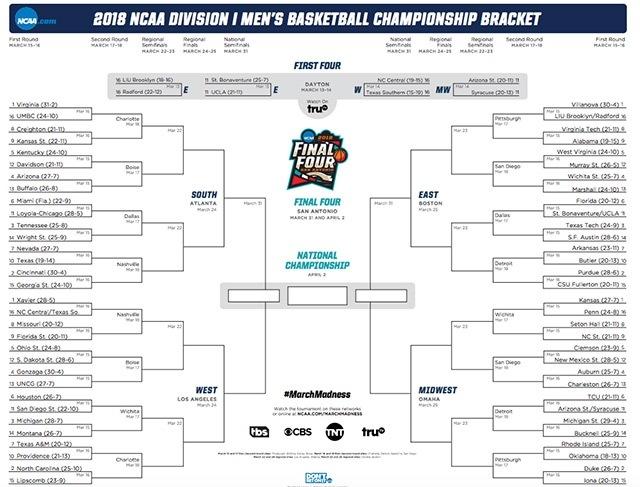 brack·et·ol·o·gy
/ˌbrakəˈtäləjē/ noun
– the activity of predicting the participants in and outcomes of the games in a sports tournament, especially the NCAA college basketball tournament.
Bracketology is something many people across the country participate in. College basketball fans swarm to their computers to get on one of many websites in order to fill out a bracket. Who will win? You start doing your research, glued to the television listening to analysts, or endlessly scrolling through statistics.
UPSET ALERT!
While these may help you to pick the best bracket, statistics in the tournament can never be trusted. "Upsets" occur often. There hasn't been a year where a team with supposedly no shot has beaten teams that were projected to win it all. In terms of what an upset actually is, the NCAA defines it as a victory by a team seeded 5 or more lines below its defeated opponent. This is a loose definition, however, as sometimes higher-seeded teams are not favored in games. An example of that from this year would be that Michigan (an eleven seed) was favored over Colorado State (a six seed). Although we expect this to happen, no one could ever predict which teams will be the ones to pull them off.
This year, all signs pointed to a Gonzaga win. Prior to the tournament's commencement, the number one seed was projected a 20% chance to win it all (with no other team having more than 10%). These chances dropped to zero very quickly. On March 24, the sweet sixteen, Arkansas, a four seed, matched up with Gonzaga and a future top-three pick in the NBA draft Chet Holmgren. Arkansas managed to gain and keep the lead at the half. Playing from ahead of your opponent is always better. They managed to hold on to their lead, but also had fans holding on to their seats.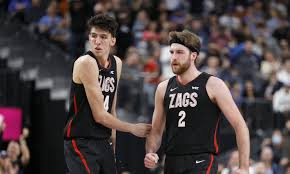 Where the Madness Comes From
So, what is it that allows the tournament to spark excitement throughout the country? Huntingtown's Varsity Basketball Coach, Tobias Jenifer, helps to break this down. There are a couple of key pieces to this, one being the brackets themselves, "…it brings people of all ages together for a few weeks to watch a sport and have some fun!" says Jenifer. The brackets provide friendly competition between people throughout the nation who all strive to have the most accurate brackets.
"The tournament also gives the smaller schools a bigger platform to showcase their skills." Due to the way the bracket is set up, many schools that aren't in any Power Five conference don't get much love from NBA Scouts. The tournaments set-up procedure allows for these smaller schools to have a shot and show what they can do against the top competition in the country. This has been an opportunity for multiple NBA Stars who were "hidden gems who got their rise to fame from playing their best on the biggest stage."
Finally, the Cinderella teams. For clarity, this is a team that is not supposed to do well in the tournament because they are a smaller school or a low seed, that ends up making a deep run. These are the teams that really keep it interesting, someone to look out for. This year it was Saint Peter's basketball program that made history becoming the first 15 seed to make the Elite 8 (Fourth round of the tournament). "I love the underdog role," says Tobias, but who doesn't?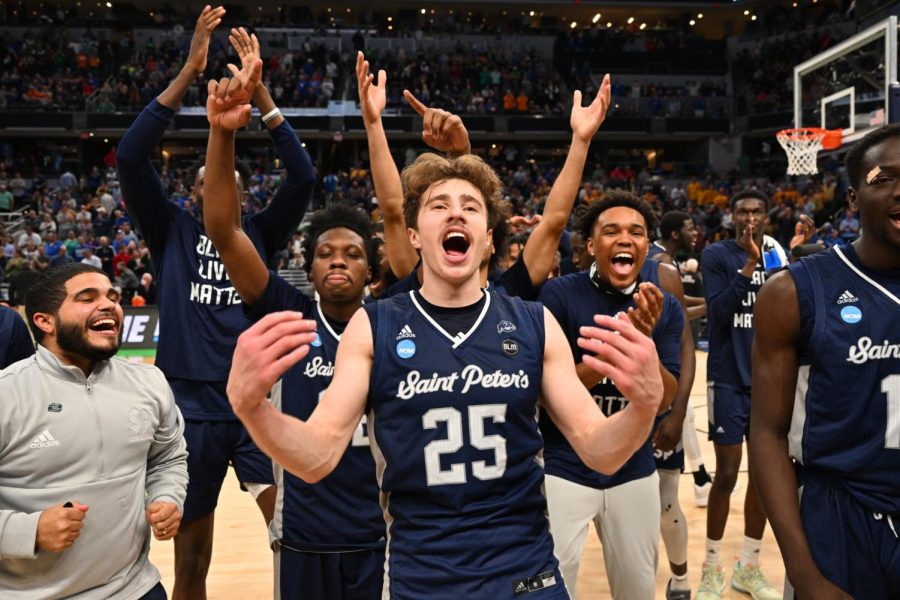 The month of March is unmatched for basketball fans. No matter where you go you can always find the closest game on or see who's on upset alert. The year ended with Kansas taking home the National Championship over North Carolina in a 72-69 nail-biter. This tournament was not one to forget with multiple historic moments occurring and it's sad it had to end, but who says the fun must stop here? NBA Playoffs, here we come.