The Man Behind the Magic: Mr. John Allen
"If it's one thing I've learned, it's that everyone, no matter where they're from, are the same, beneath the skin." – Mr. Allen.
From Antarctica to Uzbekistan, and of course good old Calvert County, Mr. John Allen has quite certainly made his mark on the world, and more specifically our HHS community. From the man who brought you Storm Watch, The Radar, The Overcast podcast, and the newspaper you are reading right now, The Forecast, here's the scoop on, as Storm Watch anchor Jay Wilson likes to say: "the man, the myth, the legend,"  Mr. Allen! 
Growing up in 'God's Country'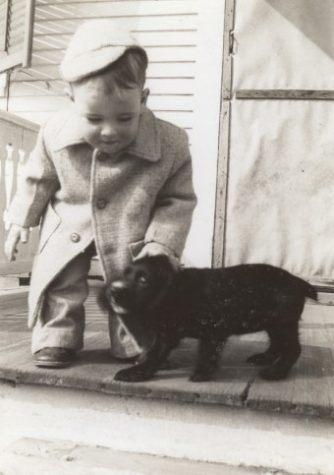 Raised in small-town Chelsea, Vermont, which Allen refers to as "God's Country," with a population of 1,238, Mr. Allen spent his whole childhood learning in one school. "It was not a one-room schoolhouse, but the high schoolers were all on the top floor and the rest of the school was on the bottom floor," Mr. Allen described. During his high school career, Mr. Allen spent his time participating in a wide variety of extracurricular activities, such as President of the class council, Glee Club, baseball team manager, and the Editor of his own high school newspaper, The Monitor. By the time he was a senior, Mr. Allen graduated amongst 15 other classmates in the year 1958.  He would then continue his education at the prestigious Ivy League Dartmouth College. 
Class is in Session
Starting off his freshman year at Dartmouth, Mr. Allen decided to pursue a career in education and majored in English. "I worked really hard; it certainly wasn't an easy place to be. I did alright for my first year, and I fooled around more in my second year and didn't do so well until I settled down," Mr. Allen explained. While a student at Dartmouth, Mr. Allen enjoyed spending his time working at the school's radio station. "I was a disc jockey and I read the news," Mr. Allen recalled. "I never thought that broadcasting would be a career at the time."  
After graduating from Dartmouth College, Allen traveled to Winnetka, Illinois to become a high school English teacher. He would teach at New Trier High School, which was an exciting endeavor for Allen! "I got more involved in doing television work, the school had a broadcasting studio, much like the one we have here at Huntingtown." This was one of the first school-based broadcast studios in the country at the time, which made the overall experience even more exhilarating for Mr. Allen! 
Lights, Camera, Action
During his time as a teacher in Illinois, Mr. Allen discovered his love for journalism and broadcasting. "I started to think to myself, wow, this is fun! I was producing educational teaching videos at the time." Deciding to pursue his newfound passion, Mr. Allen went back to school to obtain another master's degree in broadcasting. "From there I worked around Chicago for a while. I shot more films than broadcasts… mostly just promoting various products and commercial projects of that sort."  
As his experience and expertise grew, so did new opportunities! Mr. Allen's first major project was to create documentaries for the American Red Cross national headquarters, an organization that collects blood donations, provides disaster relief and other volunteer services. "I moved to Washington D.C. to follow the organization to document the relief that they provide to tornado-ridden places and other health and safety assistance." While living in the DMV area, Mr. Allen and his wife, Rhoda, settled down in their new home, which was a renovated one-room schoolhouse! Other notable projects that Mr. Allen worked on included films and documentaries on teaching handicapped kids how to swim, the need for blood donations, AIDS, and interviewing Japanese Americans about living in America through WWII. After about ten years of working with the Red Cross, Mr. Allen, his wife, and a close friend of theirs started their own production company called Signature Communications, in Virginia. Shortly after this, they moved to Calvert County in Maryland.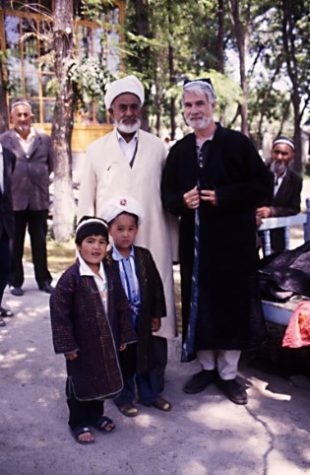 Following the startup of Signature Communications, Mr. Allen took up several large-scale projects including a four-part series about the national space program, NASA, which was a broadcast on PBS, where he filmed interviews with Buzz Aldrin and other early space pioneers. "I've interviewed a wide variety of people," Mr. Allen explains. "I've talked with German scientists who moved to the U.S. after WWII, Leonardo DiCaprio, Maya Angelou, the Little Rock Nine, and some other fascinating  people." With a job that took him all over the world, Mr. Allen had the opportunity to travel to every state except Alaska and every continent except Africa. "I traveled to Antarctica to work on a documentary for the National Science Foundation and Uzbekistan to document the efforts of volunteers in the Peace Corps."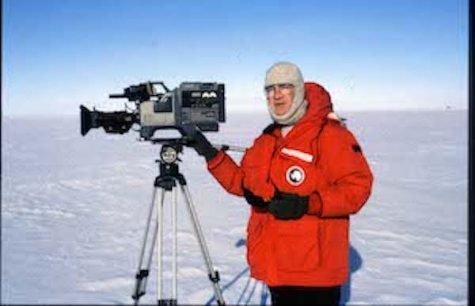 Looking further along with his career, Mr. Allen also made an hour-long feature documentary about the AIDS  epidemic, where he interviewed the then-new director of the NIAID (National Institute of Allergies and Infectious Diseases), Dr. Anthony Fauci. "We made these films until about three or four years ago," Mr. Allen mentioned, "Technology was changing, and we decided that we wanted to do other things in our life, so we moved right here in Calvert County." The ambiance of the water and boats was the perfect setting for Mr. Allen, who said that it reminded him of a lot of life up in Vermont. "I still liked being busy, so I didn't want to retire yet. I looked around for teaching again and fortunately got hired here!" 
Rockin' Like a Hurricane
A well-liked member of the Hurricane Community, Mr. Allen has certainly made a name for himself. "Mr. Allen is one of the kindest, gentlest employees here at Huntingtown; he genuinely cares about the well-being of our school and those he works alongside," HHS English teacher, Mr. Orlandi explained. "He is willing to give up so much of his time to accommodate the needs of others and meet the needs of our school." But that is not all; HHS sophomore, Molly Galdieri, expressed what has stuck with her most from Mr. Allen's class. "I have learned a lot about Journalism ethics, but mainly just being truthful. It is good to apply that outside of the classroom as well." Galdieri also noted that Journalism with Mr. Allen is her favorite class!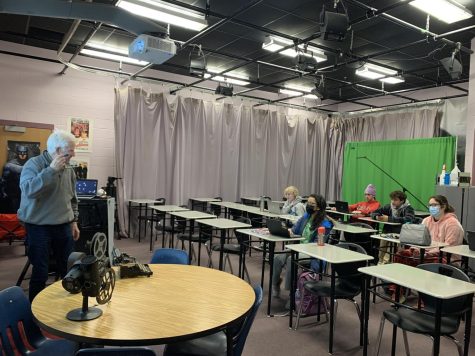 Mr. Allen is well known for his kind and welcoming heart, but he is also known for the various projects he has started up around the school, such as The Forecast, The Radar, and our up-and-coming podcast, called Overcast! These projects will be attached to Mr. Allen's name forever, and rightfully so. "Anything that Mr. Allen does is always done extremely well!" explained Mr. Orlandi. "He has given our students a voice that empowers them to know that what they have to say, matters." According to Mr. Keesee, "Mr. Allen is a great coworker. He's funny, relatable, and always willing to have a conversation. Mr. Allen is very personable!"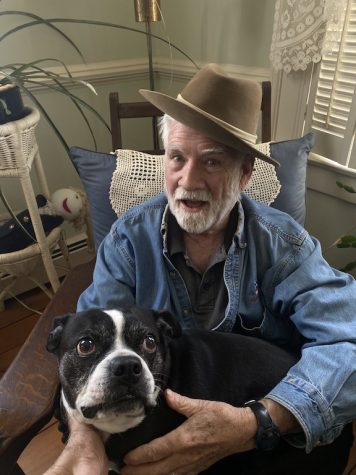 When not teaching his blossoming Journalists, which he loves doing, Mr. Allen can be found at home, raising his three grandchildren. He enjoys growing garlic and gardening with them as well. Allen finds great peace and companionship in walking with his four-legged friend, a Boston Terrier, lovingly called Dempsey.  
As writers, it is hard to find a way to conclude a story about a man such as Mr. Allen. The tremendous impact he has had on not only his students but colleagues alike will surely not be forgotten for years to come. So, rather than concluding this piece, we will say "more to come," because there is definitely 'more to come' in the life story of John Allen, and we sure can't wait to see what splendidly unpredictable endeavor comes next!