Inside the College Football Coaching Carrousel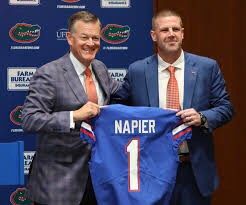 Picture yourself as an Athletic Director at a top tier sports school. Think the Alabama's, Ohio State, Michigans, Notre Dames, LSU, you pick! You are tasked with finding a top tier college football coach, you have 100 million dollars to spend on this hire, but you must act quickly or else you could be fired. Many people were tasked with this difficult process in College Football and in one of the most hectic coaching carousels we've ever seen, and it isn't even close to being over.
Let's start off with the LSU Football hire because I am an LSU fan and this was probably the most chaotic of the searches this season.
LSU
Fired: Ed Orgeron
Hired: Brian Kelly.
Grade: A-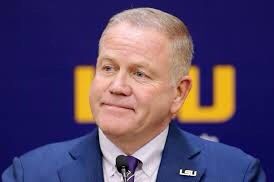 Some outsiders to the LSU program may consider the Oregeron firing a little too harsh considering he just won a national title but going 11-11 since and off the field issues rising it is safe to say it was time for a change, LSU hired a proven winner in Brian Kelley who holds to most wins in ND CFB history and coached them to a BSC National title game where they lost to Alabama 42-14. He also coached them to two CFP appearances and an ACC title game last year. They are back to being an independent team now.  I give this Hire an A-, Brian Kelly is a proven winner as mentioned above, has shown that he can recruit the state of Louisiana and has already shown he can assemble a top tier staff at Notre Dame. You can see that already beginning here at LSU, when he hired Kansas City Chiefs LB coach Matt House as their Defensive Coordinator, Cincinnati OC Mike Denbrock, and the McNeese State Head Coach and one of the best recruiters in the nation to join his staff as the Associate Head Coach and the Running Backs coach.
Now onto the biggest splash hire, USC:
Fired: Clay Helton
Hired Lincoln Riley
A++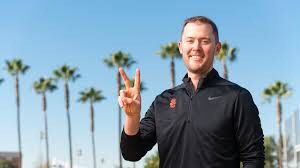 Clay Helton failed in so many ways to bring USC back to their so-called promised land, with the roster mismanagement, failure to recruit the state of California, and in game adjustments, three of the most important things a college football coach needs. When USC fired Clay Helton after the team's blowout loss to Stanford, there were a lot of names being thrown around. Would a guy like James Franklin leave his stable job at Penn State, or would Mike Tomlin leave the Pittsburgh Steelers for the Trojans? Months later and it seemed like USC had hit a major roadblock with their search. The two biggest jobs open were LSU and Florida and their targets like James Franklin(PSU), Mel Tucker(MSU), and Mike Tomlin all signing extensions.  USC went heavy after Riley, who many believed would be taking the LSU job, Riley who won 3 Big12 championships, played in 2 College Football Playoffs, and help produce 2 #1 overall draft picks in the NFL at Oklahoma will receive a 10 year 125 million dollar contract, a 6 million dollar house in LA, his two homes in Norman will be purchased by USC for 500k about asking prices as well as unlimited access to the Universities private jet for both him and his family. This was a very pricey but fantastic hire. I give this a grade of an A++
Florida
Fired: Dan Mullen
Hired: Billy Napier
Grade: B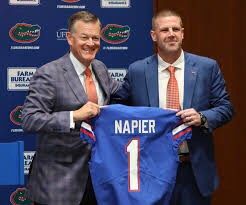 Florida made a very necessary change here. Dan Mullen came in and had a nice run, he won a few big games and played in an SEC Championship, but he had one foot out the door the whole time and was practically running on autopilot. He built a cringeworthy culture and continued to make cringe comments about his team and his staff, always having an attitude with the media and never taking blame, pushing away upset losses vs a 3-5 LSU team like they were nothing. Florida was a hot mess and a laughingstock to so many around the country. In comes Billy Napier, the hot kid on the block, Napier was previously the head coach at the University of Louisiana where he brought the ragin' cajuns to a level of success they haven't seen before, multiple ten-win seasons, ranked in the top 25 consistently, and multiple sun belt conference championships appearances with one title, coming this year vs App State., Napier coming in also means good things for recruiting purposes. He will come in and attempt to lock down the state of Florida while also using his connections in Georgia, Texas, and Louisiana to try to pry away top talent from big schools in those states. The one downside to Napier is that he has never held a power five coaching job before, and this is a high-risk high reward situation for the University of Florida. I give this hire a B for the sole reason that I do think that Napier will struggle in his first three seasons at Florida, when I say struggle, I think they will comfortably make bowl games but will likely finish 8-4 or 9-3. Of course, that is just my opinion, there is a scenario I can see him doing much better but with Napier being a conservative offensive minded head coach I expect there to be some rough bumps in the early years of Billy Napier's tenure in the SEC.
Miami
Fired: Manny Diaz
Hired: Mario Christobal
Grade: B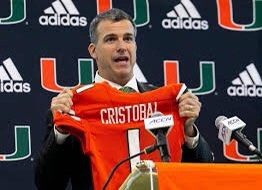 Well, this was very expected, but the situation was handled in a very rare and unique manner that no one anticipated. The downfall of the University of Miami dates back well over two decades now. Miami has not seen the success they know since the Jimmy Johnson days. The cold truth is they just lack the commitment from both the administration and fans. However, this has not been so clear and evident as it was this fall. Miami announced that they would be parting ways with Director of Athletics, Blake James, who handles coaching searches. Two weeks later it was rumored who they might target, but rumors also circulated that nobody knew what was happening, everyone thought they were in charge, and no one knew what to do. Then all of sudden out of nowhere it was reported that Miami had offered the job to Oregon Head Coach Mario Christobal. Okay that was expected except there was one strange thing about this, well two really, Miami had yet to fire their current Head Coach Manny Diaz and had also had still yet to hire their new director of athletics. About an hour before they announced the hiring of Christobal as the next Head Coach Manny Diaz was fired, this was the right move. Diaz had struggled to recruit, his inability to assemble a top tier coaching staff proved the in-game adjustments and coaching on his part was very poor. Mario Chrisotbal comes in with a qualified track record, he can recruit very well. He is able to assemble a coaching staff and is a fantastic motivator. He is also a great public relations guy. However, the one con to this hire is that Christoabal just lacks the football IQ. Christobal is like former LSU head coach Ed Orgeron, the difference is that Christobal is able to manage the game and gives his coordinators the freedom to run their system. He respects the boundaries but also knows what is going on, he is almost like the president of the Miami football program right now. Either way I believe this hire will be great in the long run. However, Christobal will have to compete with Florida and Florida state as well as programs all across the country to lock down in-state talent, if anyone can do this it is Mario Christobal.
And so, from Lincoln Riley's 130-million-dollar contract at USC. Brian Kelly's new fam-uh-lee after getting a 100-million-dollar contract with LSU. Florida finding the diamond in the rough and taking the risk others wouldn't. Miami's colossal collapse before a wild comeback, these were just four of the biggest hires in this year's college football coaching carousel that are worthy of note.