America's "Nightmare Before Christmas" 
When December rolls around, one of the only things that students  have in mind is the upcoming Winter break, filled with family time, cozy socks by the fire, and most importantly, not having to worry about the stress and constant hustle from school. What students shouldn't think about, however, is the possibility of risking their lives to that of a school shooter… and with the events of December 17th, students across the country faced just that.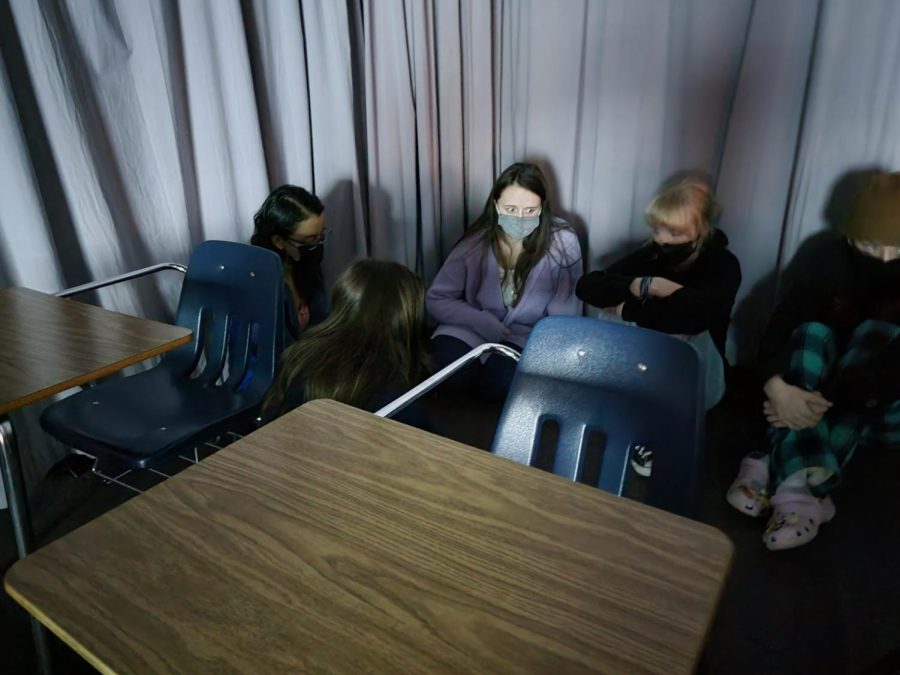 The Origin of the Challenge:
Originally surfacing on the app TikTok, the challenge, according to various news sources, was first created for a harmless prank to have mass amounts of students skip school. As time progressed, however, the challenge transitioned from "National Skip School Day" to "National Shoot Up Your School Day." According to a Baltimore County Public Schools' tweet and Baltimore law enforcement, the threats "originated in Arizona and are not credible." Being responsible for countless other harmful challenges such as the "devious lick" challenge, (where students would film themselves defacing school property) TikTok responded to rising public concern through Twitter a few weeks ago. "We handle even rumored threats with utmost sadness, which is why we're working with law enforcement to look into warnings about potential violence at schools…"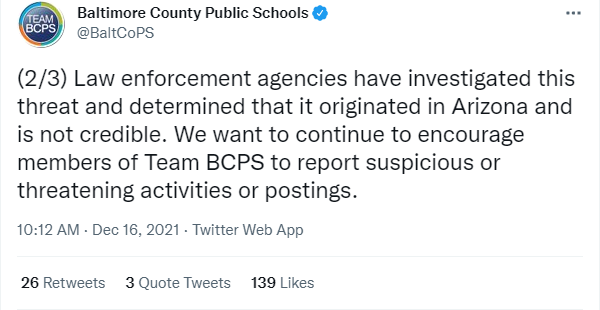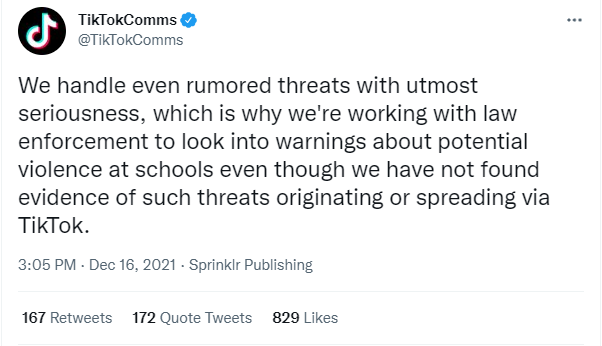 The Faces Behind the Threats:
Behind every screen, there's a face. And for a thread so widespread that it got nationwide attention, there seemed to be a whole army of internet warriors about to put their harmful words and posts into action. Whenever the topic of school shooters arises, most people imagine an insane, psychotic creepy man.  On the contrary, most of these individuals were students themselves. According to Fox LA, countless arrests were given out to students all over the nation, some just as young as thirteen. Most of these students threatened either their school, or individual students on social media, and/or had access to firearms. For the state of Maryland, countless school districts around the state held a dramatic increase of police presence on school campuses to prevent any and all threats.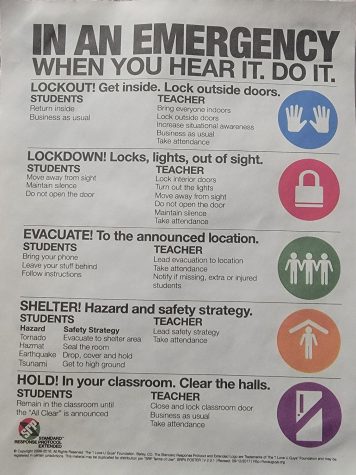 As for Huntingtown, our Principal, Mr. Weber, had this to say about our school's situation that day. "Huntingtown only had one threat, which was made on a social media post that mentioned other schools such as Calvert and Chopticon. We decided to let law enforcement know about the threat and started up an investigation. The police eventually figured out that the post was created by a student from Chopticon High School." There were also some rumors about another student who threatened to harm other students at Huntingtown. There was also an investigation done, and there was absolutely no credible source that that threat was true. It was simply just rumors pieced together by various bits that students learned and spread. As the Principal, Mr. Weber expressed confidently that school on that Friday would be the same as any other day. "There was nothing from the investigations that indicated anything would've happened, and so that's why school was still in session. We took all the necessary precautions to keep the students and faculty safe. I decided to hold a meeting with all of our staff the morning of Thursday the 16th. I explained to everyone that there was no real threat and to relay that information to their students." Unlike other schools within Maryland, Huntingtown did not have an increased police presence as Mr. Weber feared that students would be on edge throughout the day. His main goal was to keep everyone safe and calm.  
Thoughts on the Matter:
In general, people tend to believe that things like this won't ever happen to them. Being stuck in a life-or-death situation is something you wouldn't expect to be thrown into. Emma Gregory, a senior here at Huntingtown, however, faced just that. Coming from a military family, Emma spent a portion of her life on military bases. "One day," as she recalled, "the base went on a lockdown. I guess someone had a really bad day and needed to take their anger out one way or another."  
 Emma, who was around 5 at the time, remembered all the emotions that she felt during that moment, "The main thing I remember was how scared and nervous people were. Everyone was praying that they would get home safely. For me, I was angry and concerned… The only thing I could think about was my mom." With the recent threats this past December, I asked Gregory to share some thoughts and insight on the situation after having lived through one herself. "I think its repulsive and wrong to make a threat like that. The people who made those threats are not smart at all and have no remorse for anything." As for her fellow students, Emma shared some advice to help persevere through events such as these. "Stay calm and make sure you listen. Remember to stay quiet and be prepared for anything."  
  As we all know, some of our greatest influences in our lives are our teachers. They guide us through their lessons and curriculum and nurture our young minds to prepare us for success outside of high school. For teachers like Commander Hartwell, the Senior Naval Science Instructor here at Huntingtown, one thing they didn't expect when choosing this career was to protect their students too. "As a teacher we need to be engaging in the classroom. One of the biggest causes of school shootings is mental health, so our impact on students goes a long way. I mean, we see them every day. I think our administration did a great job handling our situation. They contacted law enforcement and started an investigation. It was all under control."   
  As my parents always say, "It's our job to look out for you Elizabeth!" Acts like taking a day off work to take care of you when you're sick, comforting you when you're having a bad day, and constantly checking their phone to see if you need anything are all a part of parenting. A parent's worst fear is their child getting harmed in any way, shape, or form. Janet Heagy, a mom to a junior and a freshman at Huntingtown, shared her thoughts on the matter. "I was more  cautious than nervous. As the saying goes, better safe than sorry. No one wants to believe there are people that can do such things as a school shooting. However, reality has proven us wrong… My children's minds were uncomfortable with the situation. It's nearly impossible to try and understand how our kids see situations in this world today. All we could do as parents is what we feel is best for the safety, care, and welfare of our own. I felt my best choice was to keep their minds at ease at home for one day."  
  Remember, If you or anyone that you know is going through difficult times or mental struggles and is thinking about harming others, please let an adult, counselor, or teacher know at once. Your efforts could help prevent a tragedy like a school shooting take place and save lives.