Updated: Does HHS Overlook Black History Month?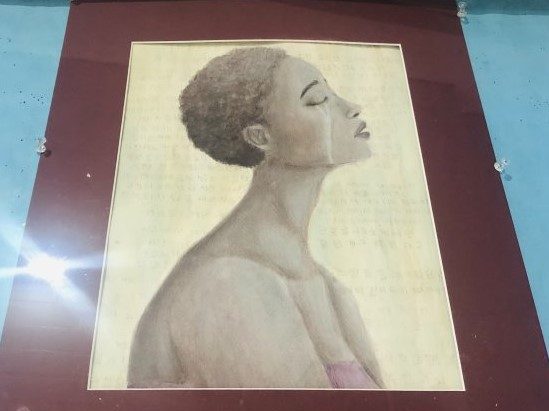 There's a crisp chill in the air and each one of your warm exhales forms a wispy cloud of vapor before you. It's winter. But more importantly, it's February. A time to celebrate your heritage, the story of your people. It's Black History Month.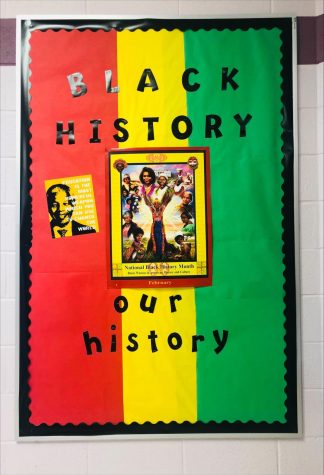 Update: After her interview for this article, Mrs. Cox was inspired to celebrate Black History Month, marking the first time in Huntingtown's history when something is done to commemorate the event.  
Mrs. Cox took the time to decorate her bulletin board with vibrant colors and posters. She also posts information about Black history figures outside of her room (L-307) on the third floor.  
Her kindheartedness and dedication to inclusivity are an inspiration to our community. 
What Exactly is Black History Month?
Black History Month (BHM) is a celebration of Black culture and the narratives of Black Americans. The event commemorates the accomplishments of the Black community, and its central role in the development of America. In other words, it is a time to reflect and remember the hardships, as well as the strength, of African Americans' past.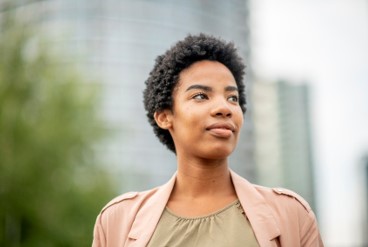 In February of 1926, American Historian Carter G. Woodson launched "Negro History Week" in an effort to encourage the study of the Black past. This was the birth of what would later become Black History Month. Woodson was driven to start the weekly celebration because Black history had been glossed over and ignored by US schools and academia for centuries.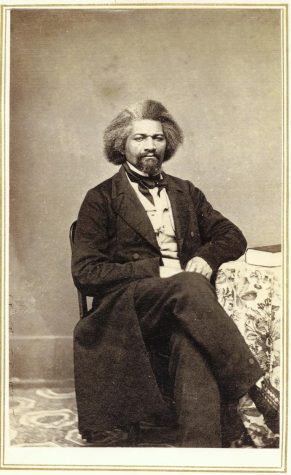 February was chosen as the month to celebrate BHM because it is imbued with significance for the Black community. Notably, the birthdays of both President Abraham Lincoln (February 12) and Frederick Douglas (February 14) fall in February. President Lincoln is known for issuing the Emancipation Proclamation that freed slaves of the Confederate States amidst the American Civil War. Meanwhile, Douglas was a prominent orator and abolitionist who was born into slavery, but became one of the most influential human rights activists of the 19th century. It was Woodson's hope that their legacies would live on. 
Is Black History Still Glossed Over?
In the five years that Mrs. Cox has worked as a social studies teacher at Huntingtown High, to her knowledge, there have been no efforts to commemorate Black History Month at our school. No morning announcements, BHM projects, or even posters were used to celebrate the event. In fact, Mrs. Cox notes that, "…in the last four or five years, we haven't even had a Black social studies teacher on the secondary level throughout the whole county." So, there's a clear lack of representation and awareness on the matter. Mrs. Cox speculates that if we had greater diversity in our demographics, cultural celebrations, like BHM, would come more naturally. "If there isn't a teacher, administrator, or even a student who advocates for it [celebrating BHM], it's not going to happen," she affirms.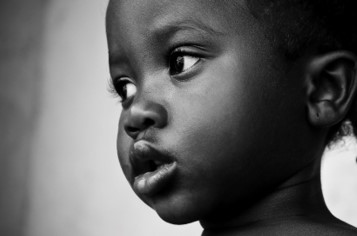 Sadly, neglecting to acknowledge cultural events can isolate members of our community. Students may feel unrepresented if their culture is ignored by the school they attend each day. So, they can grow uncomfortable in that environment. From there, everything else can go downhill. According to Mrs. Cox, "When those small groups of people don't feel as comfortable at our school, then you can ask the question, are they going to do as well? Are they going to feel that they have a connection? Is there a reason for them to come to school and be part of our community?" Mrs. Cox argues that by acknowledging BHM, you are not creating a divisive barrier between students of different races. Rather, you are constructively embracing their differences and "acknowledging who they are." Just because you don't have Black roots doesn't mean that you can't appreciate Black History Month. "If you want to see change, join other groups [different from your own] where you can be an ally," Mrs. Cox urges. 
Thankfully, some things do seem to be improving. "This year's going to be the first year where we offer an African American Studies class," Mrs. Cox cheered. This was able to occur because the school finally had enough students who signed up for the course. For Huntingtown, this marks a huge stride towards more diverse perspectives in education. Also, Mrs. Cox mentioned that this year, a few Black teachers were hired by the county, and are meant to start teaching by next year. "It's something that the county definitely is working on – trying to have diverse teachers," she comments. Nonetheless, she also concedes that at the moment, the racial disparity "is really telling in the Social Studies department." So, the message is clear: if we want more diversity in education, we need to demand it. 
Why Celebrate Black History Month?
 Celebrating Black History Month serves to promote open-mindedness. By learning about Black Americans' grit, intelligence, and compassion, we can work to counteract the negative stereotypes and prejudices preached against them. Also, when we hear our culture being spoken of in a positive light, it makes us feel seen. For PG county student, Nyae' Dick, this is precisely the case. "The recognition and celebration of Black culture makes me feel comfortable in my own skin," she explains. Similarly, other members of the community also appreciate it when something special is done in February. "Black History Month is the celebration of not only our culture and life, but generations that came before us," emphasizes Aaron Hall. Freshman Jamon Dick expresses a similar sentiment, "It [BHM] is a celebration of the progress we've made." To Nyae', although February is the shortest month of the year, "the recognition is needed." Nonetheless, students like Jamon also admit that "there's still more that needs to be done" beyond BHM to maintain accountability in classrooms.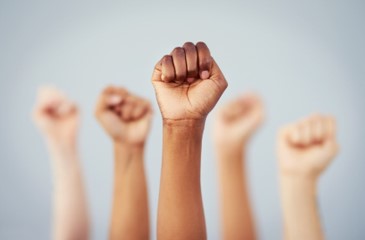 Just as we demand cultural representation and diversity in movies and TV shows, we should also seek it out in school curriculums. Black History Month allows us to celebrate Black culture, which is American culture. So, why isn't it discussed more in American schools? We all benefit from the contributions of Black figures who are too often never heard of. It's time we change that.  
See the section titled, A BHM Figure You Didn't Learn in School.  
A BHM Figure You Didn't Learn in School
Often, the names of well-known activists like Martin Luther King Jr., Sojourner Truth, and Jackie Robinson are discussed during this time to pay homage to the struggle for equality. However, the contributions of the Black community stem even further back than the civil rights movement. Take the story of one man, Onesimus (ow-NEHS-ih-MahS), as an example. Despite being enslaved, he saved the lives of generations. His story is scarcely mentioned in schools, but it should be remembered.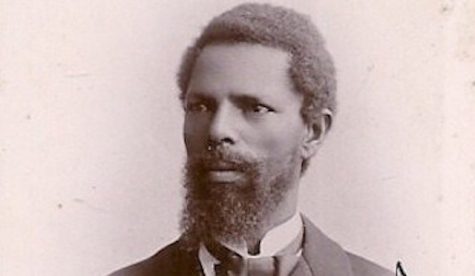 In 1706, an enslaved West African man was given to Puritan minister Cotton Mather. Mather, who resided in Massachusetts, gave the African man the name of Onesimus. By 1716, Onesimus revealed the unimaginable. He knew how to save people from a deadly disease: smallpox.  
Colonial America was plagued with diseases, and smallpox was one of the deadliest ones. It was highly contagious, causing fever, fatigue, and crusty rashes that left mutilating scars, that is, if one survived. This illness was brought to colonies aboard slave ships. Enslaved individuals were crammed inside, forced to reside in putrid, mucky quarters. In such unsanitary conditions, smallpox was able to spread like wildfire. Then, once the ships arrived at their destinations – among them Massachusetts – the disease spread to colonists.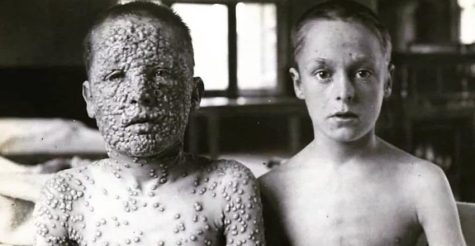 Thankfully, Onesimus told Mather of an operation (inoculation) that could grant immunity against smallpox. Onesimus explained that he had undergone the procedure himself, and that once a person underwent it, they did not have to fear the contagion. Essentially, pus from a smallpox patient had to be rubbed onto the open wound of a healthy person. This was done under the supervision of a physician so that the infected material could be introduced into the body safely. The results were symptoms that were milder than smallpox, but that would still grant the healthy individual immunity against the virus. Once Mather shared Onesimus' knowledge, numerous Bostonians were inoculated and spared from smallpox. In 1721 alone, 236 people were saved because of Onesimus. 
At a time when we face uncertainty amidst a seemingly endless pandemic, Onesimus' story sheds light on the importance of interracial collaboration. The procedure he described set the groundwork for the development of the vaccination methods we use today. So, we have much to thank him for. The same is true for the hundreds of other Black individuals, like him, who helped make America what it is today.