Teaching a Universal Language
"Music is the universal language of mankind."- Henry Wadsworth Longfellow
The world as we know it today is separated by barriers. Whether it be geological, cultural, political, and more recently, biological with the spread of COVID-19. Small businesses suffered greatly during the pandemic… and running them was tremendous work, let alone starting one! For Huntingtown's very own Laura Vance, however, the pandemic was her steppingstone to the start of her piano studio!
For those who know Laura, they recognize her bubbly personality, her seemingly endless knowledge of vocabulary, and most of all, her radiating creativity. Being her co-Editor-in-Chief of The Forecast, I can confidently say that Laura is an artist at heart. Her art, that I'm familiar with, however, is that of her writing skills and ability to connect with her readers through her words. But there is so much more to this artist, specifically her outstanding musical ability! "I come from a family of musicians. My mom and sister both play both violin and piano and have their own studios. My dad plays saxophone in the Army band," Laura explains. The Vance family's love of music must be genetic too, because Laura has also been playing the piano for a whopping 9 years!
The Start of Laura's Piano Studio:
It was only last year- in November of 2020- when Laura realized that she wanted to share her love of music with others. "I started up the studio because I wanted to earn money to buy Christmas gifts for my family and friends." With previous knowledge of being a private tutor from her family, the start of her piano studio was an easier process than expected. Since Covid was raging and spreading more than ever, lessons were taught online over Zoom. "I got a lot of publicity over social media. I made an advertisement with my rates, qualifications, and age of students I was looking to teach," Laura says. "My mom posted it over her professional music Facebook account." At the low-price rate of just $15 per half hour, Laura got tons of students interested in pursuing the piano!
Struggles of being a Student Entrepreneur:
With success, there are bound to be struggles as well. In Laura's case, being a Junior who just finished her online classes – and then had to teach young children how to play an instrument – was no easy task at all! "It was very difficult for me to try to engage children over Zoom. I have a lot of empathy for teachers now," Vance recalled. "We've spent our entire day learning online, so we were all pretty sick of staring at screens." Laura's work setup for herself and students during quarantine was configured so that the zoom camera was able to capture both her face, and her hands on the piano. "Staying organized was a big struggle for me too. School ended at four, which was followed by hours of teaching. Then, I would have to do my homework super late… it was really exhausting."
Smooth Sailing: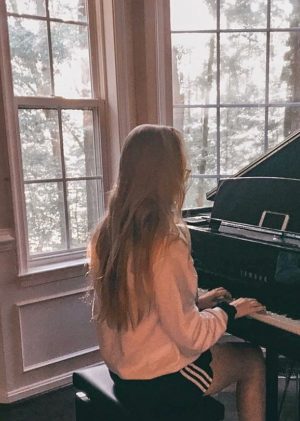 Despite struggling last year running her business during Covid, Laura managed to push through those rough times and now runs a studio that's better than ever! "My teaching range has now gotten to a constant number of students. When I first started out, I would teach for about 3 hours straight," Vance exclaims. "I still have a few students that have been with me since the beginning. It's really rewarding to see how much they've progressed." From not knowing anything about music to now being able to play songs and read notes, Laura and her students sure have come a long way!
Advice on Starting Your own Business:
Now, if you're thinking about starting your own small business and need a few tips to help, then Laura is definitely the girl to help you out! "I don't think people realize how important different abilities are to the world. I thought I had nothing to offer… I mean, I'm not a business girl until I realized I had a ton of musical knowledge," Laura states. "If you want to pursue something, go for it because you have no idea how many people might be interested in what you have to offer!"
Running a small business, especially as a high school student, isn't for the faint of heart. According to Laura, you need to be persistent. "You need to ask yourself 'Is this really worth it?' Time management is an excellent recourse to have too… and probably the most important thing is knowing your limits. Don't push yourself too hard to the point where you're overwhelmed."
With music being such a remarkable influence in our everyday lives, we often forget its true value. For generations, regardless of barriers, music connected the people of our world. Whether it be young or old, healthy
or ill, friends or enemies, music can change people's lives. And those who teach that magical universal language, like Laura Vance, are the blessings of society today.