Avengers, Assemble!
Most people believe that superheroes are something of fiction or make-believe. I mean, superhuman strength and telekinesis aren't possible at all! But what if I told you that superheroes are real? What if I told you that those heroes are students right here, studying within the halls of Huntingtown High School? Armed with a passion for our Earth, the members of Earth Avengers are here to make a change! So, have no fear, Huntingtown's Earth Avengers are here!
Meet the Crew and What They Do!
Led by Mrs. Rowder, Earth Avengers is currently composed of 5 members: Brietta Dalzell, Nikki Gorberg, Chloe Oberg, Evie Herb, and McKenna Downs. "It's a very interesting club to be a part of," Chloe mentions. "It's fun knowing you get to work with people that have the same passions as you! Helping the environment is a fun and great way to get involved in the community."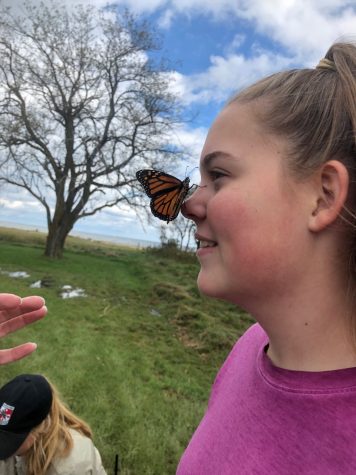 Over the course of an average school year, Earth Avengers takes on multiple projects that aim to spread awareness and take care of local and global issues about our climate and ecosystems. "In the past, the club has tagged animals such as monarch butterflies and owls, and went on field trips like camping," Brietta recalls. "This year, we are making posters about misunderstood animals like sharks and spiders. We also have a candy wrapper trash collector that we'll send to recycling sites to properly recycle the trash." Other than working on those interesting activities, the club has also been tasked with taking care of their newest member: Corpelion Corn Corpion!
Terrapin Takeover: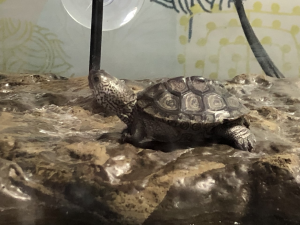 Corpelion Corn Corpion is hands down the most unique member of Earth Avengers. Their bulging eyes and scaley green skin are features you certainly won't forget when meeting them… especially since our new friend is a terrapin! "We take weekly measurements to see how much it's grown," explains Mrs. Rowder. With a diet of liver and terrapin pellets, this little guy can sure put it down! "Corpelion was just 10 grams when it first arrived. Now it weighs 17 grams!" That's about a 70% increase in only 6 weeks! Along with measuring Corpelion's weight, the members of the Earth Avengers use a variety of tools such as a digital ruler to measure the shell height & width, carapace (upper shell) length, and plastron (bottom shell) length.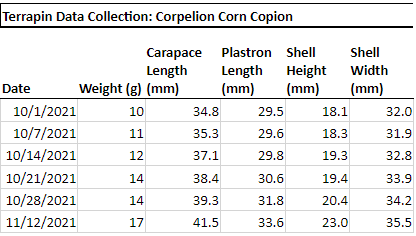 In order to keep Corpelion's new home clean and tidy, Junior Braeden Smith is tasked with cleaning the tank every week. "I have to drain the water out, scrub the walls, clean out the filters, and refill the tank with water. I also need add salt and the buffer to make sure the salt level is good."
A Hero's Impact: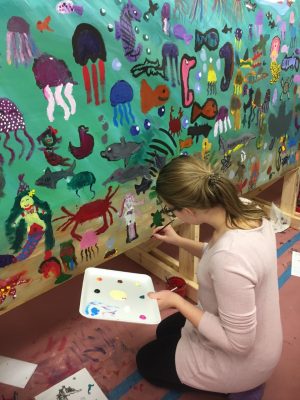 The efforts made by the Earth Avengers team have been incredibly beneficial to our planet. Over the years, Mrs. Rowder and her students have done many heroic deeds, most notably planting over 20,000 bay grasses in Cove Point to restore the shoreline that was washed away and destroyed by hurricanes.
If you wish to become an avenger and help make a difference in the community, please speak to Mrs. Rowder in room J-201, where meetings will be held every Thursday during A-lunch.