FBLA Profile
Do you want to be the next Jeff Bezos? Do you desire to start your own business one day? If so, this might be the club for you. FBLA – Future Business Leaders Association, the club is sponsored and led by Mr. Orlandi alongside officers Joey Williams, Tori Minakowski, Bella Rosasco, Caroline Garret, Ariana Tanouye, Christian Arias, and Nick Novak. The club is designed to teach students specific skills in the business field, such as developing a company, a business pitch, how to analyze data, financing, promotion, etc. These skills are also the events which students choose to participate in based on whether the student paid their dues and are eligible for the event based on which business classes they have taken. All year they work towards their end goal for their event in hopes of moving on to state's and even national's.
One particular Huntingtown alumni could tell you all about nationals as she went three times in her FBLA career. Ally Harrington, daughter of Huntingtown teacher Valerie Harrington, is living proof of what FBLA can do for you.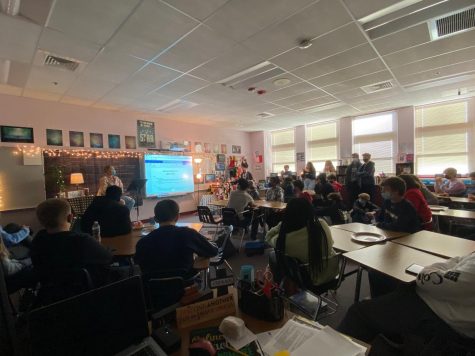 She was a participant in the club for the entirety of her high school career and began competing her sophomore year in Public Speaking. That year she won regionals, states, and went to nationals. In her junior year she took on Electronic Career Portfolio and had an identical outcome to the year before. In her final year she competed in E-business, "This felt like the cherry on top as I won regionals, states, and took third place on stage at nationals in Chicago." While placing in national's is already an incredible accomplishment, the event allowed her to learn how to develop an online business store and accomplish her dreams.
"FBLA propelled me into a career in business in many ways. I discovered I wanted to turn my passion for fashion into a career through my FBLA competition events." Ally says that each of her events have helped her in one way or another. Public Speaking helped her to gain confidence and learn the proper etiquette needed in the business world. Electronic Career Portfolio opened her eyes to becoming a buyer, and to her major, Fashion Merchandising and Management which she ended up going to college for at Thomas Jefferson University. And finally, E-Business gave her the knowledge of running an online business which is incredibly beneficial for her boutique, The Allycat Walk, as the shop itself is only open on select days.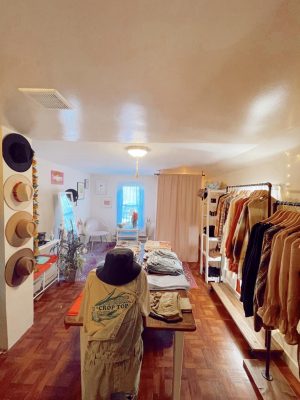 "It has always been a dream [to open a boutique]… but the funny thing is, in about 2 months we were ready for our Launch weekend. We wanted to launch in time for Fall, and with a lot of sweat and motivation (maybe a tear or two), it all came to life." With the help of her boyfriend the two were able to work outside of their full-time jobs and bring everything together quite quickly. The boutique is a pop-up shop in Port Republic, Calvert County which is conveniently located for her current customers to come in on days which the shop is open, try on different styles all while being in a friendly environment. The location was not only convenient for customers but for Ally and her boyfriend as well, as it was the right amount of space to put as many clothes as possible, for a doable price. The building their shop is in is also home to another couple of shops, which is helpful for The Ally Catwalk because this brings business to her from outside places of interest that she didn't have access to before.
When she isn't working on The Allycat Walk, she is an Associate Beauty Buyer in Trend Cosmetics for Macy's. Her role is incredibly unique and allows her to develop products for people to buy like makeup sets. Macy's Style Crew is an ambassador program for employees which only felt fitting for Ally as she had her Instagram to share her looks, where she gets it from, and other fashion/beauty finds, tips, tricks etc. for years. "Style Crew allows me to do just that, but show the great items we carry at Macy's and create exclusive content."
Ally says she smiles every day at work because as they say, "you don't work a day in your life if you do what you love. I'm striving to do that every day." Clearly, she has found a love in the business world and maybe you will too. Try out FBLA and you may find just that you belong in the world of business as well.