A Simone Biles Story: "The Twisties"
USA Olympics are made up of some of the country's most talented and fit athletes of all time. From Gymnastics to Bobsledding, there is a sport there for anyone to spectate and someone to idolize on Team USA.
One of the most well-known and admired athletes in gymnastics is Simone Biles. Ever since she was adopted by her parents, Ronald and Nellie Biles, she has always had an affinity for gymnastics. She went on to be one of the greatest gymnasts of our time, if not ever! Blessed with 32 Olympic medals, she is one of the most decorated gymnasts. However, in 2021, she took a leave of absence as she was suffering from the challenging mental block, "The Twistie's"
Biles has delt with this issue before, going as far back as training for Rio in 2016. What exactly are "The Twistie's," you might ask? Well, teammate and Olympic medalist Laurie Hernandez explained that it is a mental barrier that hits you when you are doing "high-level elements," typically on the floor level, or on the vault. At the worst time possible, "the rhythm is off, and it feels like your brain will stutter step for half a second, and that is enough to throw off the whole routine." After her unforeseen return, Biles won an Olympic bronze medal in her routine when she was competing with other amazing athletes like Suni Lee, another Olympic medalist.
To attach a familiar face to this occasion, I interviewed HHS senior Caroline Banholzer about her understanding of gymnastics. Banholzer started competing in 2011 in the Junior Olympic USAG Program. However, she stopped competing in June, but Banholzer is sharing her talents as a coach to a Level 4 team. When I brought up "The Twistie's" with her, she empathized with Simone Biles. "'The Twisties' can be very scary," she explained. "The best way I can explain it is it feels like your mind and body disconnect." An example she gave was when she would do a front layout and Banholzer would end up twisting and falling. "It can be very dangerous because you don't know where you are in the air!"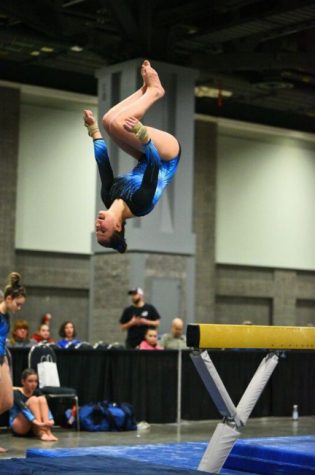 "The Twistie's can take months to overcome if you are competing at an elite level like Simone Biles, so I understand why she had to withdrawal from the Olympic competition," Banholzer explained. "The Twistie's" can profoundly affect a gymnast's performance and life, not only as a gymnast, but as a person outside of the gym; especially if they were to sustain an injury, that can possibly alter your career as a gymnast.
About the Contributor
Rachael Heagy, Scheduling Manager
My name is Rachael Heagy and I am an 11th grader here at Huntingtown. I have been involved in the journalism department my entire high school career. Some...