Snakes! For Pets?
Ever thought of owning a pet snake? Usually everyone's first reaction to that is no. Yet some suggest that snakes are better to keep as a pet than a puppy.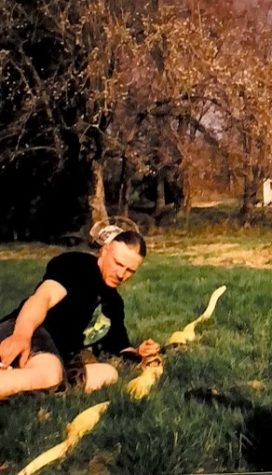 Most snakes are easy to hold, docile and easy to take care of. They usually only have to eat every one to three weeks. My dad used to feed his snake vegetables though they generally eat animals. He would get rats and rabbits from pet stores and farmers markets. If they would not eat a rabbit, he would keep rabbit's and rats together and then their scents would get on each other and make it so the snake would be more likely to eat the rabbit than go longer without food. I would never be able to feed a rat to an animal, but some foods can come frozen and ready for snakes to eat after they thaw.
My dad had 8 snakes at one time. He had 12 throughout his whole life. He loved having his snakes, but when they found out my mom was pregnant, they got rid of his snake Felix because I was going to be an infant. He didn't want to take the risk of my getting hurt.
His favorite type of snake was a Burmese python.  They can grow anywhere from 18 inches to 8 feet. He has had an anaconda. The biggest snake was 13 feet albino Burmese python which was white and yellow. The last snake was a yellow anaconda.
My dad's favorite snake:
"Precious" was 18 inches. She would follow him around from room to room. One time she got out of her cage and a tile was missing from the ceiling in the bathroom. She got on the toilet. You could see items knocked over behind the toilet below the missing tile. Dad went to work, got home, turned on the lights. Precious was looking for him, came out of the ceiling and climbed to his hand when he reached out. She used to put her head on the counter and watch him cook and do dishes. He would take the tank lid off, and she would climb around until he went to sleep. Sad thing is that the fuse in his apartment went out and Precious and Felix fought over the heating pad. She got too cold and passed away one day while he was at work.
Tips/facts about Snakes: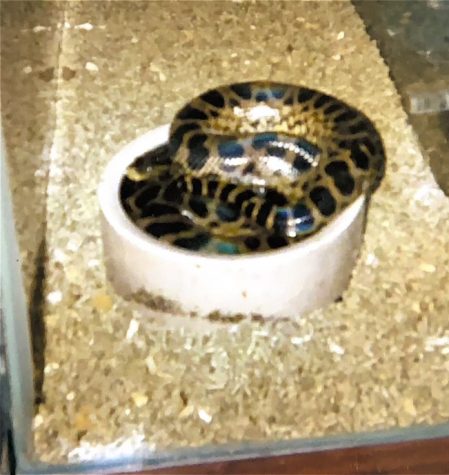 My dad would put them in warm water in the bath when they used the bathroom so they wouldn't mess up their tank.
He would put powder on the rats. Basically the powder provided nutrients that the snakes needed and would help with digestion.
You may know that snakes shed their skin several times a year.  The hardest thing for them to shed is their eye cap and you sometimes have to help by using tweezers
They get really dull colored when they are about to shed and it is usually best not to handle them cause it's like sunburn for snakes.
Pythons are usually easier to keep than boas, especially for beginners, since boas are tree snakes.  It is important to  make it harder for them to get out of their tank since they grab onto everything
My dad loved having his snakes and I hope that maybe one day I can get over my fear of feeding them living rodents and get a little snake myself in the near future.