Staying Fit During Unfit Times
"Great things come from hard work and perseverance. No excuses." This quote is from the late, great Kobe Bryant. During these treacherous times, it appears we go a few steps forward and then a few steps back. The fact is this is the way life goes. However, even through tough times, as Kobe said, there are no excuses. That goes for getting and continuing to be in shape. Even though gyms are closed, or maybe you are still a little hesitant about going out and being around people, you can still accomplish your fitness goals.
One thing that has been a great blessing for me was the decision to take the Weight and Physical Training course at HHS. This course provides you with an opportunity to become comfortable working-out and being active. During this pandemic, it is easy to get into the habit of just sitting around on your computer, watching Netflix, or playing video games. Well, in this class, you are usually graded on your participation in workouts that are provided for you or that you plan out on your own.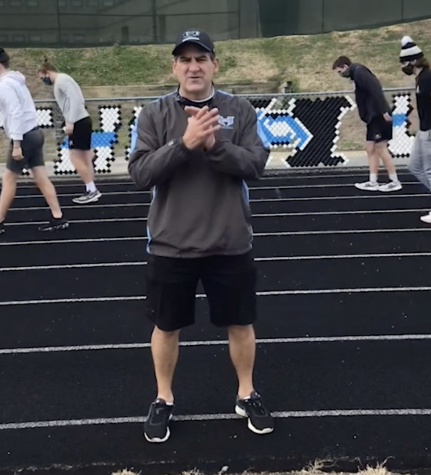 The remarkable thing about creating your own workout plan is that you can cater it to your needs and goals in fitness. Mr. Connolly, or Coach Connolly, as some know him, explained this in our interview. He said, "In class, we try to include activities for different level athletes, where some people are in there primarily to get physically fit and there are also varsity level athletes. So, we try to teach the kids there for fitness and then the varsity athletes subsidize their regular workout routines." This is a good thing to keep in mind when planning out your workout or trying to find a plan online or anywhere else. There must be a sense of self-awareness. To know what you want and need to work on and how to focus on those things. In my interview with Mr. Connolly, he mentioned the same thing. "If you are going out for a sport like soccer, obviously there is different conditioning that you need than if you are going out for the track team doing something like shotput or discus. You would either need more power or more endurance."
Now, you might wonder what kinds of exercises and workouts other people have gravitated towards. Well, a couple of students in my weight training class were willing to share their workouts. One thing that you will notice is that the two workout plans are different. That is okay because everyone is different, and everyone has different goals they want to achieve. Ultimately, remember the words of Kobe Bryant, "Great things come from hard work and perseverance. No excuses."