From Classrooms to Kitchens: Dinner Time! 
After spending what seems like years looking at computer screens all day, one of the only things that can tend to our tender eyes and rumbling  stomachs is to relish   a nice hearty dinner.  Whether it be with your family or by yourself,  take a  peek  at what our HHS teachers have to offer on  Huntingtown's  evening menu!  
Mr.  Kerwin's  bacon-wrapped venison tenderloin: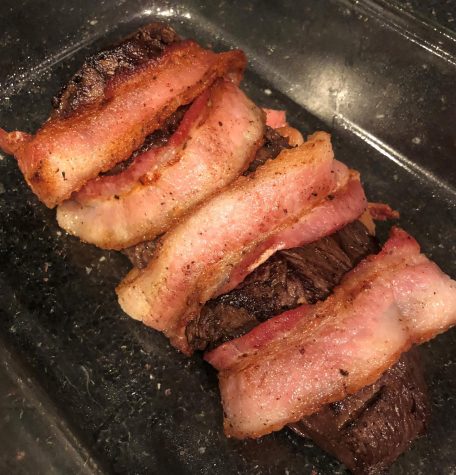 For  all  the hunters out there, Mr. Kerwin  has  certainly  got you covered for your next meal!  After a long day, this gamey meal is certainly the best reward. "My wife and I love  venison  because it  is  leaner than beef, and you can make a variety of dishes with the meat.  I have tried a lot of different recipes, but the best one is my bacon-wrapped  venison  tenderloin."   With Mr. Kerwin behind this recipe, it'll certainly kill…  
Ingredients:  
Venison tenderloin

 

Bacon

 

Garlic

 

 

Butter

 

 

Mushroom sauce/gravy

 

 
Instructions:  
Sear the 

v

enison in a pan for about 1 minute per side.

 

 

Wrap the venison in the bacon and bake it

  

at

  

375 degrees for about 6-8 minutes.

 

 

Top it off with garlic, butter, and mushroom sauce/gravy.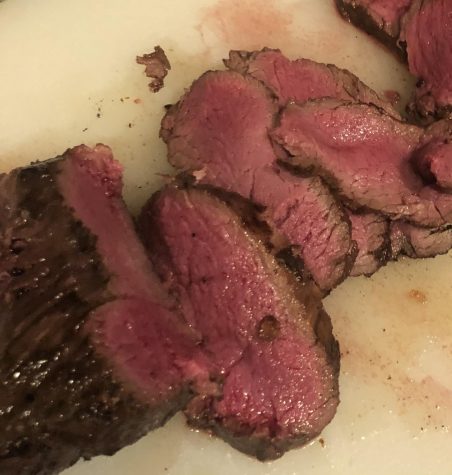 Mrs. Bodden's Crab Dip:  
If  you  have  been  to  an   HHS  girls'  basketball game, you know how much of a sports fan  Mrs.  Bodden is.  Serving her  crab dip recipe will  surely  make  you the MVP of the household.  Being a perfect appetizer, it allows for a splendid  meal while watching  shows  on television. "It's an awesome comfort food, especially during cold, rainy days.  It's  simple to make and tastes delicious.   My daughter and I usually make this on a Saturday or Sunday, and we have it as a snack while we are binge watching something on Netflix."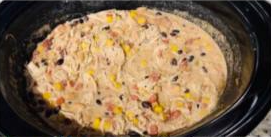 Ingredients:  
8 ounces of cream cheese (cubed at room temperature)

 

 

½ cup of mayonnaise

 

 

¾ cup of sour cream

 

 

1 ½ cup of

 

shredded

  

cheese,

  

divided

 

 

1 tsp ground mustard

 

 

½ tsp garlic powder

 

 

1 ½ tsp lemon juice, divided (½ tsp will be

  

added to 1 cup of water to rinse the meat)

 

 

2 tsp

  

Worcestershire 

 

sauce

 

 

2 tsp of Old Bay seasoning

 

 

1 pound of fresh jumbo lump crab meat

 

 

Soft

  

pretzels 

 

and

  

Texas

  

toast squares (for dipping)

 

 
  Instructions:  
Preheat oven to 350.

 

Thoroughly mix all ingredients except the crab meat, some of the cheddar, and half of the Old Bay.

 

 
Put crab meat into a colander and rinse with ice cold lemon. 

 

Gently roll the crab meat into the mixture as not to break apart the 

 

lumps of 

 

crab.

 

 
Pour into a baking dish (8 x 8 or 8×10), top with more cheddar cheese, and bake until hot and bubbly, usually 30-40 

 

minutes

 

 
Cook pretzels and garlic toast based on package instructions

  

and cut

  

into bite sized pieces for dipping.

 

 
Ms. Clark's  Crockpot Taco Chili:  
From the Pythagorean theorem to pots and pans, Ms. Clark  is  certainly a master  of  classwork and  cooking!  With her very own recipe,  you will  never go hungry again!  "Being at home more now than ever, weekly meals can get boring when you have the same thing  over and over again… I created this by combining a taco bake recipe and a cream cheese chicken chili."   This dish can be served with  sides of rice or cornbread too!  
Ingredients:  
3-5 skinless, boneless chicken breasts

 

 

1 can of 

Rotel

 mild

  

diced

  

tomatoes 

 

and green chilis

 

 

1 can of corn

 

 

1 can of black beans (rinsed 

 

and drained)

 

 

½ -1 ounce of taco seasoning

 

 

Any taco or hot sauce

  

with the amount to your liking

 

 

8 oz of cream cheese

 

 
  Instructions:  
Put chicken at the bottom of the crockpot

  

and dump the rest of the ingredients on top.

 

 

Stir the ingredients a little and cook on low for 6 hours.

 

 

After 3 hours, flip the chicken over and stir.

 

 

After 5 hours, check to see if the chicken is cooked.

 

 

When the chicken is cooked, drain some of the extra juices into a cup and set it aside.

 

 

Shred the chicken and add the

  

juices

  

back into the crockpot.

 

 

Enjoy!