From Classrooms to Kitchens
We can all agree that the events of COVID-19 have put a damper on our moods. Staying in quarantine for 10 months has left many of us feeling bored and unmotivated throughout the day… but not for our staff! I've spoken with some of our very own teachers at Huntingtown about their favorite recipes to make with their families. Who knows, you might find a new tasty treat!
Mrs. Hoetzlein's Strawberry Shortcake:
After a long day of teaching politics to her students, you can sometimes find Mrs. Hoetzlein whipping up something yummy in the kitchen! "I've always loved to cook." Hoetzlein says, "We often do so together as a family.  During the beginning of the pandemic, we were like everyone else, making banana bread. However as strawberry season arrived, one of my favorite recipes to make was homemade shortcakes and whipped cream to serve with fresh fruit… In fact, I made them this past weekend." There's certainly no debate that this shortcake is one delightful dessert!
Ingredients for shortcake:
1 ½ cups all-purpose flour
¼ cup granulated sugar
1 tsp. baking powder
½ tsp. baking soda
1/3 cup butter
½ cup plain yogurt
3 tbsp. Milk
1 egg
½ tsp. vanilla extract
Ingredients for Whipped Cream:
2 cups heavy whipping cream
1/4 cup of confectioners' sugar
1 tsp. vanilla
Instructions for shortcake:
Mix the flour, sugar, baking powder, and baking soda. Cube 1/3 cup cold butter and add to the flour mixture, making sure not to over stir so the butter doesn't melt.
In a separate bowl, stir the egg, yogurt, milk and vanilla until they are combined.
Add the liquid mixture to the dry mixture and stir until a wet dough is formed.
Drop the dough onto parchment paper using an ice cream scoop. This should give you 8 shortcakes. Sprinkle the cakes with a bit of sugar.
Bake the shortcakes at 350 degrees for 15-20 minutes.
While the shortcakes cook, cap the strawberries and whip the cream
Assemble the dessert by slicing the shortcakes in half and then filling them with a generous serving of strawberries and whipped cream.
Mr. James's Cheeseburger Pie:
When he isn't working, Mr. James likes to enjoy cooking with his family as one of his hobbies. "My family has made Cheeseburger Pie as one of our new favorite recipes.  It is easy and takes the place of going out and getting a good cheeseburger from a restaurant."
Ingredients:
1 lb ground beef
1 cup shredded cheddar cheese
½ cup Bisquick mix
1 cup milk
2 eggs
Instructions:
Precook the beef and place it in a casserole dish.
Mix the Bisquick, eggs, and milk together then layer the mixture on the beef
Top with cheese
Bake for 25 minutes at 350 degrees.
Mrs. Mackovyak's Peanut Butter Stuffed Brownies: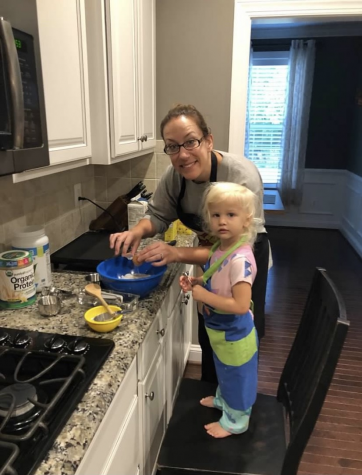 Heading over to the English department, Mrs. Mackovyak and her family, spend their time together becoming true baking bosses. "During quarantine and social distancing times, my son has really taken a liking to helping me bake." Mackovyak reminisced, "We've made a different dessert every week for our family to enjoy instead of buying one from the store. Our favorite so far has been these peanut butter swirl brownies. They are delicious! We love sweets in our house, and this one definitely delivers. The creamy peanut butter mixing with the decadent chocolate in a fudgy brownie? What's not to love?! It's been a great bonding experience for my son and I." Words can't describe how delicious this dessert sounds!
Ingredients for Brownies:
½ cup butter
8-ounces of chopped semisweet chocolate
¾ cup granulated sugar
¼ cup packed light brown sugar
3 eggs
1 tsp vanilla extract
½ cup + 2 tbsp all-purpose flour
2 tbsp unsweetened cocoa powder
¼ teaspoon salt
Ingredients for Peanut Butter Filling:
¾ cup creamy peanut butter
1 cup confectioners' sugar
2 tsp vanilla extract
2 tbsp milk
2 tbsp each chocolate chips and peanut butter chips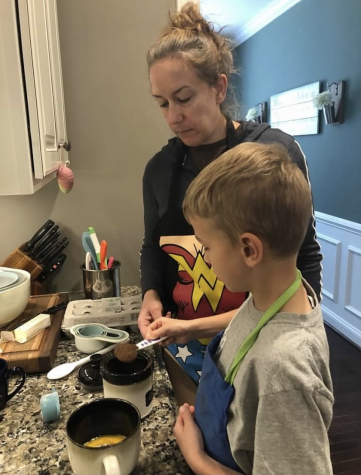 Instructions:
Melt the butter and chopped chocolate in a medium saucepan on medium heat, stirring constantly, about 5 minutes. Or melt in a medium microwave safe bowl in 20 second increments, stirring after each, in the microwave. Remove from the heat, pour into a large mixing bowl, and allow to slightly cool for 10 minutes.
While the chocolate mixture is cooling, make the peanut butter filling. In a medium bowl using a handheld or stand mixer fitted with a paddle attachment, beat the peanut butter, confectioners' sugar, vanilla, and milk together on medium-high speed until combined. The mixture will be very thick – like a crumbly cookie dough. Set aside.
Adjust the oven rack to the lower third position and preheat oven to 350°F (177°C). Line the bottom and sides of a 9×9 inch square baking pan with aluminum foil, leaving an overhand on all sides. Set aside.
Whisk the granulated and brown sugars into the cooled chocolate/butter mixture. Add the eggs, one at a time, whisking until smooth after each addition. Whisk in the vanilla. Gently fold in the flour, cocoa powder, and salt.
Pour/spread half of the brownie batter into the prepared baking pan. Take large chunks of the peanut butter filling and flatten with your hands. Place flat pieces in an even layer on top of the brownie layer, as shown in the photo above. Pour/spread the remaining brownie batter on top. Top with the chocolate chips and peanut butter chips. Using the back of a spatula, gently press the chips into the brownie batter.
Bake for 35-36 minutes or until the brownies begin to pull away from the edges of the pan. (The brownies may slightly crack in the center – that's because air in between the peanut butter layers is trying to escape. That's normal!) A toothpick inserted in the center should come out with only a few moist crumbs when the brownies are done. All ovens are different, so keep an eye on them after 30 minutes and use the toothpick test to see when yours are finished.
Allow the brownies to cool completely in the pan set on a wire rack. Once cooled, lift the foil out of the pan using the overhang on the sides and cut into squares. For neat squares, I use a very sharp knife and wipe it clean with a paper towel after each cut.
Mrs. George's Live Culture Yogurt:
Mrs. George – aka Huntingtown's very own kitchen chemist – brings her studies to our stomachs with her live culture yogurt recipe! "I think working with live cultures remains to be my favorite" She says, "Either with yeast, or bacteria, as in making yogurt, or breads." What a fantastic way to learn science!
Ingredients:
1 gallon + 1 quart milk
¼ cup live culture yogurt (Noosa or Kefir base recommended)
Instructions:
Add 1 quart of milk to a pot, stir till boiling, cover, cool till you can manage to touch(100F) do not uncover once it has boiled.
Once it reaches the temperature that is warm, and not too hot.  add 1/4 cup yogurt with live cultures of your own choosing, and stir with clean spoon or whisk, and then cover quickly with saran wrap.
wrap with a towel and leave on a counter for 6-8 hours or overnight.
Heat up 1-2 gallons of milk and repeat with the new batch to feed your active culture.  The new batch of milk gets the entire quart of newly cultured yogurt.
Allow to sit at room temperature again for another 6-8 hours.
Mr. Gross's Shrimp Grits: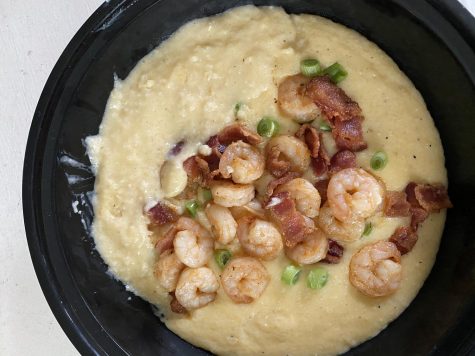 Mr. Gross: the man who brought us smiles during sports season is now bringing us a taste of southern cooking with his favorite recipe, shrimp grits! "I love this recipe because it reminds me of my college days in Spartanburg, South Carolina. The soul food in the area was amazing!" He says, "I have tried around 10-15 new recipes since the pandemic. I used to hate cooking, now you can't get me out of the kitchen!"
Ingredients:
2 cups reduced sodium chicken broth
2 cups 2% milk
1/3 cup of butter
¾ tsp salt
½ tsp pepper
¾ cup of grits
1 cup shredded cheddar cheese
8 thick sliced bacon strips, chopped
1 lb. of deveined, peeled shrimp with no tails
2 minced garlic cloves
4 green onions
Old bay seasoning
Instructions:
Add the broth, milk, butter, salt, and pepper to a pot and bring it to a boil.
Once it's at a boil, slowly stir in the grits.
Reduce heat and cover the grits for 12 minutes while stirring occasionally until they start to thicken.
Within the last two minutes stir the cheese then set the grits aside to keep warm.
In a large skillet, cook the bacon over medium heat until crispy. Once done remove the bacon and pat the excess grease off with a paper towel.
Add the minced garlic to the remaining bacon grease to sauté the shrimp. Season with old bay seasoning and cook until pink.
Place your grits on a plate and add the shrimp on top, sprinkle with green onions to your liking.
About the Writer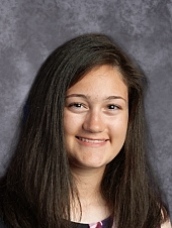 Elizabeth Polo, Editor-in-Chief
Elizabeth Polo is currently a Sophomore at Huntingtown High School.  She plays goalie for the school's field hockey team and enjoys hanging out with...