Teacher of the Year: Mr. Peter Kerwin
Ariana Rice, Ayanna Mackall, and Koral Kent
April 9, 2020
Huntingtown High School teacher, Mr. Peter Kerwin, has been awarded the school's 2020 Teacher of the Year Award. This prestigious award is earned from colleagues voting for whom they believe has displayed an outstanding performance as a teacher throughout his career at the school. This award is also reflective of his effectiveness in the classroom and his impact on his students. It's clear to see that Mr. Kerwin is not only loved by his fellow teachers, but by his students a well.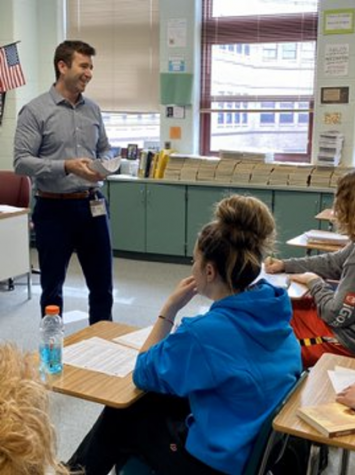 Mr. Kerwin was raised in a family of educators, a circumstance that sparked and influenced his love for education. He ultimately decided to be a teacher during his Junior year of high school. Around the same time, while in high school, he began playing lacrosse and continued through the collegiate level – transforming to coaching the sport as he entered his teaching career.  For the past 11 years, Mr. Kerwin has taught a variety of history and social study classes at Huntingtown High School as well as being the lacrosse coach. He is also the sponsor of the Snow Sports Club. In 2018, along with Ms. Cox, Kerwin was selected to participate in the Fulbright-Hays Group Abroad program, which involved 5 weeks immersed in Chinese culture as a way to further develop their knowledge of history.
So, what is it that makes Mr. Kerwin "Teacher of the Year" worthy? Firstly, Mr. Kerwin aims to be more than a teacher. He values relationship building with his students and ensures that they trust him so they can get the best learning experience. When asked what advice he would give to an incoming teacher, he said, "Students will learn best when they trust you, and they think you have their best interest in mind."  He also noted that, to foster such trust, he takes time during the first few minutes of each class to engage with students and ask them how they are.
Secondly, his teaching follows him outside of the classroom. As a coach, he has dramatically influenced the student-athletes, who learn more about the sport as the season goes on. "Mr. Kerwin has been an amazing coach who has made respectable young men out of every teammate," said Junior Varsity lacrosse player, Brady Sharp, "I deeply admire him as both a coach and a teacher." Finally, Kerwin always hopes to influence his students in a way that will stay with them as they grow older and move into adulthood. He always aims to influence and teach his students in a positive way that will follow them outside the classroom.
Congratulations to Mr. Peter Kerwin for earning this special award – and to the students who have been lucky enough to be in his classes over the years.