Remembering Mr. Henrichsen
As one school and one student body united beneath the name "Hurricanes," we are devastated to hear about the passing of a favored Huntingtown High School teacher, Chris Henrichsen. A kind and optimistic soul, he will be greatly missed by his students, colleagues, and friends here at Huntingtown. This unexpected tragedy has affected students and administration alike, but we are determined to honor his name, legacy, and everything he stood for as we remember the positive impact he has had on our school. Mr. Henrichsen, we will never forget you. The video attached to this article is a self-portrait he once made for our school's Storm Watch program.
Here is how some of his fellow teachers remember him:
"When I think of Chris I think of his laugh and his love of having a good conversation."
"Mr. Henrichsen was passionate about teaching History to students in a way that they would understand and was relevant to them. He always wanted students to enjoy class and went out of his way to give everyone grace."
"I will always remember the excitement that Chris had when he earned his tenure last year. It seems like he was part of our department much longer, but it meant a lot to him to be an established member of our department. During a year of online learning that dragged on- his excitement that day was for sure a highlight of the 2020-2021 school year for me."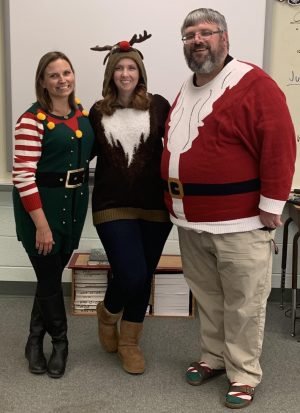 "He was always so happy to see everyone and check in with how life was going. We shared a love for Christmas. His face lit up when talking about being able to spend it with his kids. His heart was huge and he interacted so well with all levels of students. He will be so missed. "
"Chris was a wonderful colleague and friend. I will always be impressed with his jovial spirit and the desire to live his life. He was never afraid to try something new or to take on any challenge. I will miss my talks with him about world around us."
"Chris was an incredibly kind man who was not only a fixture in the Social Studies department at HHS but also a well-liked instructor at Chesapeake Driving School. His patience, intelligence and affability made him someone who will be long remembered in heart and mind by students and colleagues alike. I can easily say this community will feel the absence of such a man as folks like him are few and far between."
"I worked with Mr. Henrichsen teaching US History. When we talked about upcoming lessons, he always pushed to make sure we taught about the groups in history that often were overlooked. Mr. Henrichsen loved teaching history and loved helping his students connect with topics that interested them to make what we taught more meaningful. I will greatly miss his ideas and his unique style at our collaboratives."
"Chris was a good and kind man who cried when he saw others in pain. I will miss his friendship and advice. Lyndee, Geneva, Shem, and Todd were his pride and joy. His face lit up when he spoke about his family. He helped guide my daughter's love of punk music by suggesting his favorite punk bands to her. She will always be grateful for his mentorship. And if I knew Chris, he would be weeping by now. Love and miss you, Brother."
And finally:
"The fizz of a freshly popped can of Diet Coke is the soundtrack of my memories of Chris. He graciously hosted my 1st period World History class and became an honorary member of our little crew. Adding bits of history, comedy, and punk rock music to our 45 minutes together, this man, whose smile ALWAYS glistened in his eyes, made us feel welcome in his space. A gentle giant of a man with a pure and open heart; he had a laugh that you could feel in your toes.
He was patient, kind, and oh, so knowledgeable. His vast knowledge base included politics, history, and comic books. Even though I am sure I hurt his feelings, I will never forget the gentle way he corrected me when I called Star Wars fans "Trekkies". He then proceeded to provide me more information than I thought I would ever need about the difference between Star Wars and Star Trek…and it wasn't boring!
He entertained us with his stories. He took risks that others only dream of. He spoke his mind without fear or inhibition. I will miss the low rumble of his voice and his calm demeanor. When you were speaking, he made you feel like you were the only person in the room.
He was a behind the scenes kind of superhero, no glory for this guy! I think he preferred it this way. Watching his past students with silent pride, knowing that he contributed to the adults they would eventually become.
This is the best way that I can think of to honor him. Continuing his work in education, being proactive instead of reactive, and training myself and others to be empathic and active listeners.
Rest well my friend, we will take it from here."