Theater Performances are Returning to "Our Town"
Our Town marks Eye of the Storm's first indoor, public production in two years. With twenty-seven thousand dollars lost during the onslaught of Covid-19, the company is depending on this production to begin the process of pulling them out of their financial slump. It has been quite a journey for EOTSP, but as seen with last year's Covid cut of Bright Star, there is nothing this company can't handle. 
"This kind of production isn't anything new for us," says Junior Peter Nowak, one of Our Town's leads. "But we are going back to something we haven't done in a while now, so it'll be interesting."  After nearly two years of virtual or hybrid performances, the cast is faced with the challenge of performing live once more. They have to find their routine after being out of step with the norms of acting all over again.  
"The Seniors were able to jump back pretty easily," says Mr. Anderson, EOTSP's director. With their two years of in-person guidance and experience, he explains that returning to the performance standard we're all used to was natural for them.  "Juniors are struggling a bit, but they're coming along."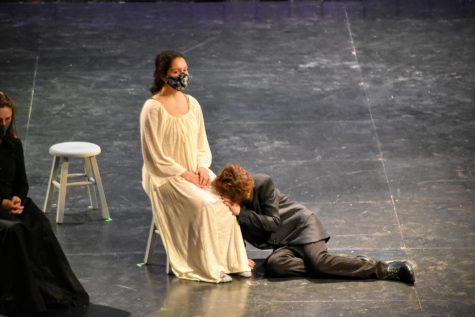 However, he assures us that this will in no way hinder the overall performance. "With the two shows that we're doing," he continues to explain, referring to the Little Women musical that will be taking place this December, "we're able to break down the casts a bit more than usual. This allows us to really focus on the actors that need more instruction."  
Usually, the company will only do two shows per school year, which includes a fall play and a spring musical. These are larger-scale productions, typically involving the entire company, as well as outside participants who are not enrolled in the theater courses. However, EOTSP is putting on five, somewhat smaller productions this school year with the hopes of earning back the royalties lost during the beginning of the pandemic.  
The company will also be performing without masks, which is not only a novelty to watch, but a thrilling development for the cast. "There were almost tears when I told them they could perform mask-less," reveals Mr. Anderson. "They were so excited to get back on stage and perform like that. It's wonderful."
He also notes that although the next few performances will be smaller scale, by the time Something Rotten hits the stage this spring, the production will be up to the grand standard the community is used to with their grand sets and extensive cast.  
"It's really refreshing to be back," agrees Austin Hickey, a junior. But he is not without his own anxieties surrounding his lead role. "Most of [the pressure] comes from the fact that I open the show and have to introduce everything else that's going to happen. I have to be able to grab the audience's attention." Needless to say, Hickey accomplishes this precisely, demanding the attention of the audience as he singlehandedly begins the play with his slow gait across the dim stage. He narrates the entirety of the performance with a hint of self-aware, dramatic irony, the sole connection between the characters and the audience.  
Many of the leads, however, are experiencing similar feelings of nerves and pressure. "I think it's good that there are always some nerves because they're what prevents you from being lax with yourself," explains Aiden McPhillips, a Senior. "No amount of nerves could make me afraid of getting out on stage." Her journey to the stage, as well as her lead role, is one of dedication and commitment. Her first role with EOTSP's Curious Incident of the Dog in the Nighttime consisted of her playing a "cabinet," where she had no lines and stood on the stage with outstretched arms for fifteen-minute intervals. "We had to prove we wanted our lines," she said. It is important to note that many of these current leads have gone through this process of dedication, so their time in the spotlight is hard-earned and years in the making.  
Perhaps the most stunning performance, however, was given by Senior Jessica Cunningham, who played the lead role of Emily Webb. She was able to capture the maturation of her character on stage, the intricacies of being in love, and the natural naivety of death. It is astounding how this level of talent can be possessed by a high schooler; I know I can speak for the entire public when I say we were truly blown away with her ability. She wasn't an actress playing a part, she became her character, and watching that transformation occur on stage was absolutely breathtaking.  
I'd say this performance," concludes Hickey, "not just for me, but for everybody, means something extra, just because it's our first live performance since everything was shut down in March of 2020. So, I think it's important to hit the ground running with this one and to continue to move forward as a company as we try and find our way back to where we began."