People of Calvert: Mind Like Maggie
Calvert County is a place of tight-knit neighbors, exciting activities, and plentiful of opportunities. Growing up, I never realized what a special community this county has, or how many influential people have lived here. So, to give thanks back to the community that has watched me grow to the person I am, I decided to create this series to highlight prominent members that make it their mission to inspire the world around them. One of these inspiring individuals is Mrs. Maggie Pike.
Born and raised in Severna Park, Mrs. Pike has been playing lacrosse for as long as she can remember. "I'm pretty sure I started playing when I was eight. I played boys lacrosse for a few years until my mom started a girl's program because she was tired of my sister and I getting pummeled with sticks," Pike recalled. As many athletes do, Maggie fell in love with the sport and committed an immense amount of time and effort toward her playing time on the field. "I played it all the way through elementary, middle, and high school. And then in college, I played for Frostburg State University, then started playing club with heroes." In college, she was named academic All-American, and was inducted into the Frostburg State athletic hall of fame setting a school record for assists.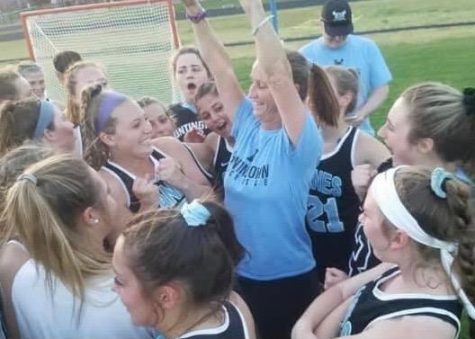 Towards the end of her playing career in high school and beginning college lacrosse, Maggie decided to share her love of the sport with the younger generations by being a coach. "I started coaching in high school with my friend, Jen, and my sister. In 1999, I coached for one of the parks and rec programs here in the county… and then in the year 2000, I started coaching at Northern, and I coached there for four years from 2000 to 2003. After I had my kids, I thought I would stop coaching, but I actually only took a year off. I got a call saying Huntingtown needed a coach, so I started coaching there."
As for teaching, that process was a bit more complicated in terms of choosing what kind of teacher she wanted to be. "I knew I wanted to teach ever since I was in fourth grade. I decided, ok, I'm going to be a teacher. So, when I was in college, I was going to be a math teacher… I failed calculus and said, okay, it can't be math. And then I said, all right, I'll be a PE teacher… I really liked that, but I figured I could just coach instead. So, in my Junior year, I switched majors to become an art teacher, and I've been doing that for 28 years ever since."
Within her time teaching at Windy Hill Elementary School, Maggie has worked alongside her young students in a happy, creative environment by doing things such as working on different art mediums and Windy Hill's annual jungle art exhibit in the gymnasium. She even earned teacher of the year in 1997-1998, 2011-2012, and 2014-2015!
As years of coaching and teaching experience went under her belt, Maggie continued to impact the daily lives of her coworkers, students, and players. "I've had a couple kids tell me that they want to be me when they grow up… Hannah Schiemer was one of them. She said, 'Coach Maggie I want to be like you, I want to teach and coach when I grow up."'
Even though her time teaching and coaching in Calvert County has grown significantly, Mrs. Pike still has goals for herself. "I want to work really hard in the art room making kids happy. I want to do my big art shows again and finally get rid of being home with COVID… I want kids playing lacrosse to grow up playing with friends and being close with each other like my girls were."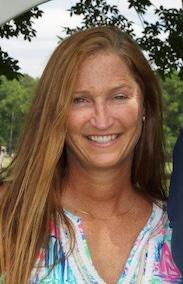 Speaking from my experiences as a player under Mrs. Pike, I can confidently say that her passion and effort within our team does not go unnoticed. Never in my life have I ever met a woman who believed in me as much as she did. No matter how good of a player you are, she always pushes you to become the player you want to be. Being able to take a person who knows absolutely nothing about lacrosse and spending the time to nurture their skills and watch them grow is something very few people can do. Maggie had the patience and understanding to help me along the way and was there to watch my first catch to my very first goal. She works every day of her life for the sole purpose of making everyone happy, whether it be in the classroom, allowing students to let their creative juices flow, or on the field, where we all push ourselves to become the best. With a mentality like hers, she has inspired so many of the young members within our community to stay true to themselves and what they love, or as I like to call it, having a mind like Maggie.
About the Contributor
Elizabeth Polo
Elizabeth Polo is currently a senior at Huntingtown High School and has been a writer for The Forecast since her Freshman year. She plays field hockey...