Opinion: Was COVID Graduation Better?
I am not one with a lot of patience, so my sister's graduation day was something I was not prepared to sit through. Every year someone who has graduated has had something to say about the longevity of the ceremony. Then everything changed when the school and Calvert County Public Schools began trying to accommodate COVID restrictions and regulations for the ceremony.
My perspective and judgement may be a little unfair because I have never been to a graduation ceremony at the Equestrian Center. But that didn't stop me from dreading the day my sister graduated because I didn't want to sit through the multiple-hour ceremony just to see her get a diploma. When we found out that it would be outside and split between multiple time slots, this meant that we would likely end up being closer to the stage, allowing viewers to see and hear the graduates and administrators better.
As I mentioned before, I'm not a super patient person, so to me this was great news. Although it did come with its worries and fears, I wondered how different the ceremony would be. What should I wear? How difficult will it be for school staff to set up in the field? What if it's raining? But I'm also not one to stress over things that won't affect me personally, so the worrying didn't last more than a couple hours.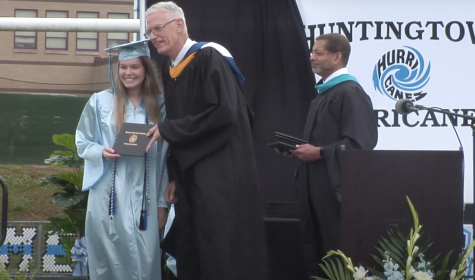 You've heard my worries and thoughts on the whole situation, but this wasn't even my graduation. I talked to Clara Drummond, my sister who graduated last year, to find out her thoughts on the ceremony and how she would've wanted her experience to be any different – if at all. "I wish we could have been all together in some capacity." She said when I asked what she would change. "I would have all the graduates on the field and all parents in the stands if it had to be done outside again." But it seems as if that's not what people want to do. She made it very clear that if she had the chance to do it all over again, she would have rather been at the equestrian center with the entire graduating class. "I would have wanted it to be completely normal."
Now we know the perspective from one graduate, but what does everyone else think? Dr. Robert Lawrence was very beneficial in finding the answer to this question. "Most students prefer to do it back at the show place arena," he says. It is not only the administrators who like for all the students to be together, but after sending out surveys to students to see which type of graduation they would like this year, many are saying the Equestrian Center. The overlying deciding factor is students wanting to be with all the other students in their class.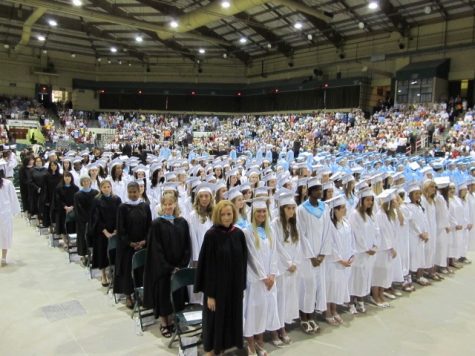 When asked what the main difference was between graduations at the two locations, "the joy of a senior seeing each other graduate" was the first thing Dr. Lawrence thought about "They just want to see all their friends graduate." Although there is mostly negative response toward the COVID modified graduation, one thing Dr. Lawrence said was a huge benefit was how the parents "thought it was more beneficial, or more intimate" as they could be walking right in front of the stage taking pictures of their child from no more than 10 feet away. This allows for a much more personal experience that parents love.
Now after hearing responses and talking to my sister and Dr. Lawrence, I feel as if I may stand alone when saying I would want the shorter graduation. Though, I am still a junior and this is subject to change in the coming years. At the end of the day, high school students just want to be together, see the people they grew up with graduate with them. So, now you've heard different points of view from a graduate, an administrator, and an attendee to the ceremony.  But which would you choose? Are you like me, where you wouldn't mind the outside and limited numbers? Or do you want to be all together indoors with your friends?
The answer for 2022 has yet to be decided.