Huntingtown Wins the Covid Cup
Field hockey in the spring? Who would have guessed? Yeah that's 2021 for you, playing field hockey at the lower field while baseball practices on the other side of the school. Our field hockey team is determined it make it a good season. Pushing themselves super hard to have the same success they did last year. We have talked to some of the players in hopes of getting some details including their thoughts as the season progressed, and let me tell you one thing, they play to win.
Pre-Season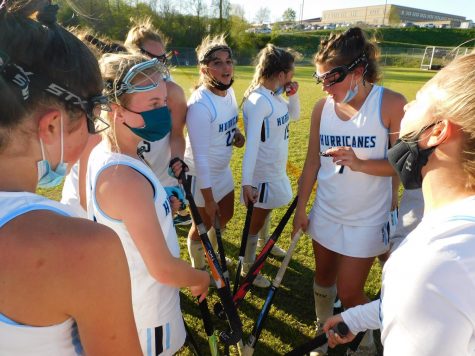 Ever since the covid outbreak wrapped its deadly fingers around the world, life as we knew it has changed to uncertainty. For many of us High School students, one of the most influential activities in our lives, sports, got cut short. This left many of our student athletes to ponder the question of if they will ever get their next season in the 2020-2021 school year. Luckily for our field hockey team, that answer was yes! After many months of waiting and waiting, the new year of 2021 brought not only new year's celebrations, but the ability to represent our school on our beloved field hockey field. Although communication and covid safety policies were still being sorted out, the mother and daughter duo Coach P and Marissa had their sights already set on great heights and knew that their goals and overcome obstacles could only be achieved with a great team. "One issue we had was that you could only keep 25 people on the team, and we had 26 people try out." Coach P states, "I just didn't think that that was fair in any sport, especially varsity, I don't have any more than 22 uniforms. We then had to decide 'what do we do'? We kept them all and we let them practice… To overcome it we tried to keep open communications with the girls and everything like that." For many of the players, tryouts and the preseason are a time to get acquainted with your teammates and gradually get back into the swing of things. Not for this season though! Since about half of the regular season was cut short, there was no time to waste with getting ready for the upcoming scrimmages and divisional games. Freshman Teya Fields recalls her experience watching the preseason scrimmages, "While watching the games, the upperclassmen inspired me. Emma Pike and Kenley Zeruto have amazing stick skills and seeing that made me want to work hard so I can impress them and the coaches." Fields' observations were right on target too as the team took both wins against Northern and Patuxent.
Regular Season
With the recent wins of the scrimmages secured under our belt, it was time to move forward in the regular season. With practice every day of the school week the only thing we as a team could do was focus on improving ourselves for the games ahead. We couldn't afford to reminisce on the mistakes we made in the past or else it would halter our confidence… which we experienced multiple times during our games. Our first game against Leonardtown was probably the lowest our spirits have ever been. The weather was extremely hot, humid, and made it difficult to breathe in, which tired our players out quickly. For Senior Emma Schiemer, she is an expert when it comes to situations such as these! "To get rid of my nerves, I usually try to boost my confidence by thinking positive and encouraging my other teammates… I get into a positive mindset by imagining and thinking of exactly what I need to do so I can contribute my part to the team."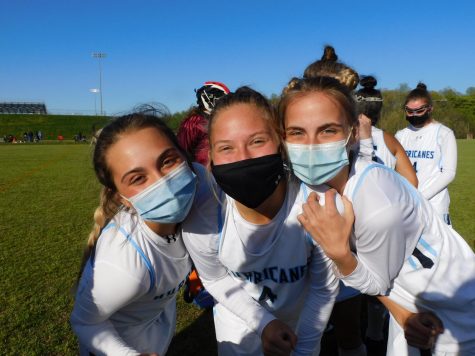 Eventually, we powered through our setback and continued to win each game one by one. Everyone came to practice ready to work hard and play even harder. With significantly less time to develop stick work and other aspects of the game, many of my teammates worked nonstop to focus on their abilities. Senior Sammy Slack shares her advancements towards her game. "For me, the most improved skill I've had this season was my reverse hits. Since I'm on the right side of the goal, it's pretty important that I know how to do those. Something I need to work on more is drop tackles. I think defensive skills are a really important aspect of offense too so I can keep the ball on that side of the field." All of this practice certainly became handy since we took down every team we faced, and in turn received a perfect winning season, a feat that impressed not only ourselves, but our spectators, and school staff as well! Captain Kenley Zeruto states, "I'm very happy with the work we put in this season. I think everyone works well together and are all friends with each other on and off the field. I think that is one of the great things about Huntingtown athletics in all because everyone is best friends with each other. The other captains and I are all great friends, and we all talk about things together and strategize stuff, so I think we've done a really great job with that… I think we did a great job in getting ready for the season and I think we did a good job so far by focusing during practice with the limited time we have."
Post Season
With our spirits high and our bodies fueled, the team was finally ready for the championship week. Everyone made sure to practice their hardest during these last few days of the season, because for 11 of them, it would be their last game ever. "To my fellow seniors I would tell them how much I love them and will miss them so much when we go away. Being with them has been the best, especially for the last two years." exclaims senior Aggie Gullace. Heading up with the SMAC Semifinals was a big day for all of us on the team. Our opponents were Leonardtown, whom we knew would not take it easy on any of us… and we were right. It was somewhat of a back-and-forth game that kept me on my toes. To be honest, I was actually starting to get a little worried that the other team would score first, until the sweet sound of the ball clunked off the backboard of the goal rung throughout the field. A goal from Captain Emma Pike! Cheering roared and our nerves ceased. We got this in the bag, I thought, and we sure did with a win of 5-0! But that game ladies and gentlemen weren't even the main course! Two days later was the big day, SMAC Championships.
Going up against Patuxent was exciting because some of us were wondering what their game plan would be. Whatever it was, we were more than prepared. We started off with our spirits high, after our usual pregame speech shared by Coach Marissa: "Go forth and conquer!" These were the words that rang in our heads. This field was our battleground, and we were about to deliver a fight no one would forget. We started off in the first quarter a little bit rocky, with lots of corners and other fouls called. It was certainly a more physical game. Towards the end of the 1st half, we already had one goal scored by Emma Schiemer! We went into halftime with a hungry appetite for victory… and oranges for our mid-game snack. Feeling rejuvenated, we went back to our field and played our best! Wham! Another goal by Sophomore Lily Greenwell, and her first this season too! With great accomplishments from our number 7, we won the game and took the Covid Cup! This win was a bittersweet moment as well, since 11 of our beloved friends, and seniors would graduate with this being their last high school game. Coach P, who's watched them grow all four years, was incredibly happy with the time they've spent together, "Thank you for four great years. I'm sorry that we didn't get to have the opportunity to go play for states because I think this would have been the team that would've taken us to states. I want to thank them for their effort, for their constant hard work, playing hard, and for always asking questions of what they can do to be better. That goes for every one of them. Can you believe that all eleven of them are returning four-year players? That's amazing!"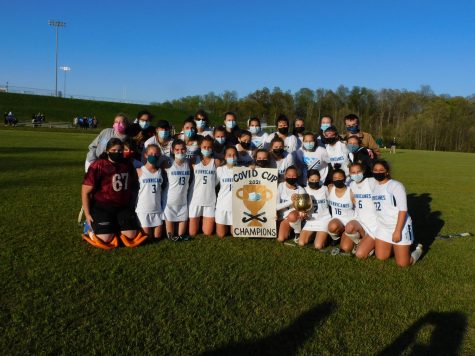 So, the field hockey team did it, they won the "Covid Cup". It's sad to say goodbye to the seniors and such a great season. They brought the team here and now must leave it in the hands of the upcoming seniors. Let's not end it here though. The season starts back up only in a couple of months and this time is the real deal. Clearly this spectacular team has had so much success in the recent years, and that isn't going to end either. So, spread the word, get those interested in sports to try out this upcoming season. This team won't disappoint.